Daniela, 25, Kvinna, Chile
flavors.me/_tsuuSenast sedd: 21 dagar sedan
5

4

3

0

3

spelade låtar sedan 8 nov 2006
| | | | | | |
| --- | --- | --- | --- | --- | --- |
| | | Bebel Gilberto – Samba De Orly | | | 17 nov 2012 |
| | | Bebel Gilberto – Samba De Orly | | | 17 nov 2012 |
| | | Carlinhos Brown & Mikael Mutti – Sapo Cai | | | 17 nov 2012 |
| | | Carlinhos Brown & Mikael Mutti – Sapo Cai | | | 17 nov 2012 |
| | | Mikael Mutti – Balanco Carioca | | | 17 nov 2012 |
| | | Mikael Mutti – Balanco Carioca | | | 17 nov 2012 |
| | | Ester Dean – Take You To Rio | | | 16 nov 2012 |
| | | Ester Dean – Take You To Rio | | | 16 nov 2012 |
| | | Ester Dean – Take You To Rio | | | 16 nov 2012 |
| | | Ester Dean – Take You To Rio | | | 16 nov 2012 |
Se mer

Flöden

Flöden
| | | | | | |
| --- | --- | --- | --- | --- | --- |
| 1 | | | | | |
| 2 | | | | | |
| 3 | | | | | |
| 4 | | | | | |
| 5 | | | | | |
| 6 | | | | | |
| 7 | | | | | |
| 8 | | | | | |
| 9 | | | | | |
| 10 | | | | | |
| 11 | | | | | |
| 12 | | | | | |
| 13 | | | | | |
| 13 | | | | | |
| 15 | | | | | |
Om mig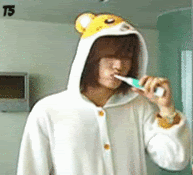 Ok, so a little introduction... nickname? tsubasa. why? a friend told me a looong time ago I was like tsubasa shibahime. a compliment? I still don't know xD but I like the series so I got stuck with the nickname just for internet purposes, in RL my name is Daniela (Dani, danny, dan, whatever suits you, I don't mind).
My music tastes varies from time to time, but I'm hell'a open minded. Everyday I listen to a lot of music.
I know english, spanish (well, duh, it's my native tongue after all xD), a bit of japanese (but not in the level of
KONNICHIWA HAJIMEMASHITE TSUBASA-CHAN DESU YOROSHIKU ONEGAISHIMASU!
(ー○ー)=3 ハァ that's just... too much fail xD ) and mandarin. I love to read (HP FTW). My major is journalism.

Right now TVXQ/DBSK/THSK owns my body, my soul and my wallet.
I love fanfiction and BL and sparkly asian idols ^^
PS: Feel free to friend me ^^ but if you want me to friend you back at least leave me a message ヾ(・・;) It creeps me out when random people add me as a friend and I don't know them. It kills the purpose of being 'friends', right? :p