RSS
Dela
6 jun 2007, 03:35
I've decided (with the insistence of Leah :P) to make a Top 23 albums of my lifetime. One for each year.
They are going to appear in alphabetical order.
And I'm limiting myself to one album per artist as well.
I'm feeling somewhat nostalgic today, and respectful towards the roots of my music taste.
This was not easy to do AT ALL. And I'm sure that it would differ on a different day, under a different mood.
But here we go.
Adrenaline
-
Deftones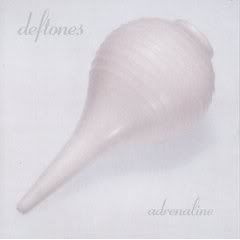 This was an album that I acquired in ninth grade. This was after people had already started listening to Rage, a band I had been into for quite some time. I needed something else to charge me up, and low and behold there was Deftones. Instantly I was blown away by their sound. They had the grunge sound of a few years prior with the angst and energy that fit my life so well at the time.
Favorite track:
Lifter
Aenima
-
Tool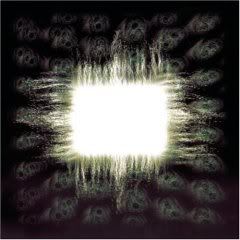 I guess I was an angry teenager like most others in my time. I'm not so sure what there was to be angry about. I had always heard of Tool but never really listened to them until tenth grade. Initially I was in love with the Opiate EP and Undertow because of their grungier sound. However once I heard epics such as "Pushit" and "Eulogy" my mind was blown. They were like the Pink Floyd of metal music, and their sound evolved so much in this album.
Favorite track:
Eulogy
All At Once
-
Paulson
Geoff got me into Paulson about a year and a half ago. Instantly their sound brought me back to my emo days, only they sounded so much more acceptable. The entire album from front to back is constructed with awesome guitar licks, seamless drumming and moving lyrics. Having seen them four times live, I can attest to how danceable their sound is. They always perform with the emotion you can hear clear as day on the album.
Favorite track:
Programs
All Eyez on Me
-
2Pac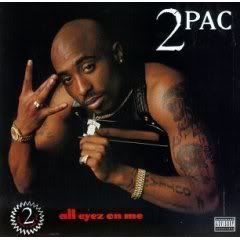 I was heavy into rap and hip-hop in eighth grade. It started with Wu-Tang Clan, which I really got into as early as third grade thanks to my older sister Cristin. Eventually the music of Wu-Tang offered nothing new, Wu-Tang Forever (which came out in seventh grade) never really struck me as that great of an album. As such, I turned to other artists, mainly 2Pac. He's always struck me as an awesome lyricist. The passion with which he puts forth his words is hard to come by in the hip-hop world today. Not to mention the production on this album is top-notch. To this day I can safely say it's one of the most well constructed rap/hip-hop albums in existence.
Favorite track (disc 1):
Tradin' War Stories
Favorite track (disc 2):
When We Ride
Before the Dawn Heals Us
-
M83
This is someone else I can thank Geoff for. Sadly I only got into them a little over a year ago. However, this past year has held some beautiful moments while this album was playing. Most memorably would be at Bonnaroo last year, sitting in Geoff's car in the AC trying to survive while listening to this. Of course some psychedelic substances helped enhance the value of it. I can't listen to this album without being transcended to that or some other incredible memory in my life. It confuses me to this day how people fail to see the beauty in this album, or any M83 album for that matter. Their sound is so cinematic, so engrossing. It really defines the way music should be.
Favorite track:
Moonchild
The Bends
-
Radiohead
I've been a fan of Radiohead since the moment I saw "Creep" on MTV when I was in third grade. They instantly struck me as a band that had an unfounded ability to make one feel the singers pain. Although it's known that all musicians put emotion into music, they were the first band to make me actually feel it. That feeling transferred even better into this album, which blew my mind from day one. From the opening notes, you could sense that Radiohead were bringing electronic elements into a traditional rock realm. From front to back this is the most solid rock and roll album we will probably ever see in our time. There is not a dull moment on the album, not a single song that isn't perfectly put in place. And although Radiohead just continue to get better and better (I could have easily put ANY Radiohead album on here) this one sticks with me the most because it is just that: THE BEST ROCK AND ROLL ALBUM OF ALL TIME. In a lot of ways I view some of their other albums as better, but they're better in different ways. I don't think I could ever take that title away from this album. And unlike some other selections on here, this pick isn't about memories. This is about pure rock and roll. Kid A and Hail To The Thief hold much, much greater memories for me. But The Bends takes the cake.
Favorite track:
Street Spirit (Fade Out)
Broken Social Scene
-
Broken Social Scene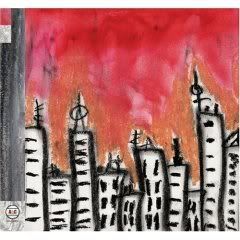 This is one of my "memories" selections that I just mentioned. Initially Broken Social Scene never really impressed me that much. I felt like I was listening to much greater things at the time, and I slept on them really bad. Then a year ago they (mostly this album) hit me really, really hard. When I went to Virginia Beach with my family, I had about ten cd's with me. Although I didn't have this one for the drive down there, every night I spent on the beach deep in thought, I listened to this album. And it was so fucking perfect. Now I know why there are tracks on the album titled "Our Faces Split the Coast in Half" and "Windsurfing Nation" and "7/4 (Shoreline)". This album was made to be listened to on the beach. If you don't trust me, sit on the beach by yourself in the middle of the night and put it on. That, or sit for an hour until the climax of this CD waiting for the sun to rise on the Atlantic Ocean. It will be worth it, weather permitting.
Favorite Track:
Major Label Debut
Clap Your Hands Say Yeah
-
Clap Your Hands Say Yeah
At first I thought this band was such a wannabe Radiohead. The way Alec droned on and on, dragging his words in a monotone manner really made me feel like he was paying tribute to Thom Yorke in his own way. Because of this, I didn't like it at first. Eventually we drove down to Bonnaroo for thirteen hours and this CD was in there for a good portion of the time. It started creeping it's way into me. Then at Bonnaroo I saw them perform live, me and Geoff got up right in the front to the left, and were standing right next to Demetri Martin. I wasn't blown away, but by the time we drove home, all I wanted to listen to was this album. After I got back it became my favorite CD of the time. For awhile they were the top artist on my Last.FM if I'm not mistaken.
Favorite track:
In This Home on Ice
Float
-
Aesop Rock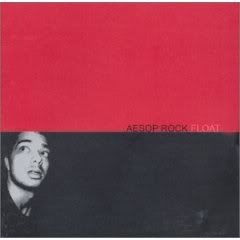 "So I heard y'all wanna float". The first Aesop Rock album I got a hold of was Labor Days. I thought it was the best hip-hop I'd heard in my life until I got a hold of this, and it elevated me to another level instantly with that first line. I was indeed floating upon first listen. This album spawned an entire hip-hop fetish for about a year. I was all over the place trying to find more hip-hop. Blockhead's work as producer on this album is remarkable. Aesop Rock's flow and intelligence has yet to be mimicked by any other MC. Just listen to "Basic Cable" or "6B Panorama" and you'll know exactly what I'm talking about. If you don't, then there's something missing in your brain.
Favorite track:
Basic Cable
Funeral
-
Arcade Fire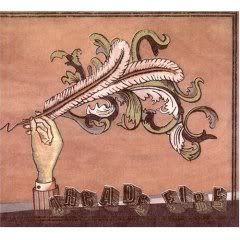 One of many bands that I started listening to simply because of their name, I must admit that I saw through the greatness of this band into nothing. For a year or so I really only liked the song "Rebellion (Lies)" I started dating this girl who was also into them, and we started listening to this album quite a bit. Even then, it never really hit me how beautiful it was. I guess I was always too distracted to truly appreciate the beauty of it. (Yet another Bonnaroo story) Then at Bonnaroo when we were setting up our tent, Justin put this CD on in his car and played it so we could all listen. It wasn't until then that it hit me how remarkable of an album it was, and how I had slept on so many of the great tracks on it for so long. The classical elements of Arcade Fire are unseen today in modern rock. The diversity of instruments they use that resembles an orchestra, the singing style that they use in almost every song resembles a choir. By the time Rebellion came on, I had already changed my opinion about my favorite song on the album. Twice. It would be a very simple thing for me to put this in my Top 5 albums of all time. But please don't force me into making that list.
Favorite track:
Wake Up
Hissing Fauna, Are You the Destroyer?
-
of Montreal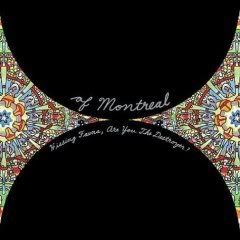 I had this album in September of last year even though it didn't come out until March. I listened to it once and dismissed it as the new age of emo due to Kevin Barnes' voice. It's easy to say I slept on yet another great album. Finally all of my friends were super super excited to see Of Montreal in March of this year. Wanting to know what their boner was all about, I popped this album on again. Instantly the production of it drew me in. The album is entirely seamless. It's hard to distinguish when one track ends and another begins. This album absolutely consumed me. Possibly more than any other album has in the past. I scrobbled Of Montreal 521 times in one week, and almost all of it was this album. To this day that is a record on my Last.FM, and I find it hard to imagine it going away. I literally listened to this album over and over. And getting to see them perform live only deepened my love for them even more. They're remarkable both on the stage and in the studio.
Favorite track:
A Sentence Of Sorts In Kongsvinger
Myth Takes
-
!!!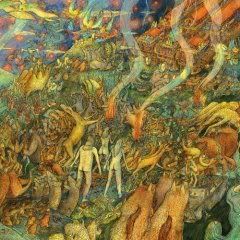 It's not often you'll see a band that doesn't really have a name, just symbols. I saw them on the lineup for Coachella and looked them up, seeing that they were similar to bands like The Rapture who I was excited to see there. So I decided to check them out. Initially wasn't that impressed, which I guess is starting to become a recurring theme of these blurbs. I think my problem was that I was mostly listening to them while playing video games. One day my cousin (whose music taste I hold in the highest regard) IM'ed me and he said "Dude. Myth Takes is one of the best albums of 2007 easily." I put it on immediately after that and actually listened to it with full intent. And I was blown away. Their sound is so unique in todays music scene. The description for them on last.fm is perfect. They list like nine genres in the first sentence, it's so true. Such a lovable sound. Such a danceable sound.
Favorite track:
Must Be The Moon
One Day I'll Be on Time
-
The Album Leaf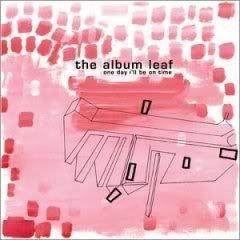 The Album Leaf was easily the first instrumental band I got into. The way I used to find bands in days before last.fm was I'd look at concert listings and any names that looked cool, I'd try and find their stuff. I remember having tickets to see them live in 2001, but after they sold the tickets they came out and said it was 21+. I remember working at Pizza Hut in 03 and playing this album on the stereo there, and our 65 year old driver loving it. I even burned it for him. The only opportunity I had to see The Album Leaf live was a trip to the city on the train in the pouring rain and waiting outside for three hours for the show to start. It was worth every second. It may have been the first show I squirted tears at. I remember hearing "Vermillion" on a Hummer commercial after they first came out and getting super pissed because this was "MY BAND". I also remember them being played in the background of an entire episode of The Real World. This album will always hold the honor of being my first "post-rock" or "shoegaze" album. However you want to refer to it.
Favorite track:
Asleep
Paul's Boutique
-
Beastie Boys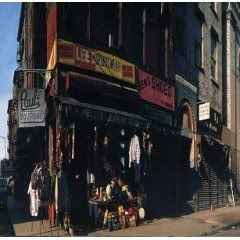 I don't think i could have a proper top 23 albums without having a Beastie Boys album. Then again I have a list like this without having an album by The Doors on here. Yet it still feels appropriate, as much as I've been influence by The Doors and Jim Morrison. Ironic. Anyway, there was a period of a good four months where all I listened to was the Beastie Boys. It started when their greatest hits compilation came out. They're so fun to listen to. I've always wanted to see them live. I had tickets to see them in 2000 on their tour with Rage Against the Machine, and then Rage broke up, so the show got cancelled. That would have been the greatest concert ever. Paul's Boutique is layed with track after track of "ill rhymin and stealin". It's hard to choose it over the much edgier Ill Communication, but I have to give it the edge because of songs like "Egg Man", "High Plains Drifter", and "The Sounds of Science".
Favorite track:
High Plains Drifter
Picaresque
-
The Decemberists
A band I can thank an ex-girlfriend for. And also be thankful that our bad breakup hasn't destroyed the quality of the album, and probably did nothing but add substance and meaning to it. Colin Meloy writes some of the most incredible imagery in his lyrics, it's impossible not to admire what he does. They have similar orchestral elements to the Arcade Fire. Because of this their sound is a lot more unique and polished. Violins, accordians, all sorts of crazy stuff I never thought I'd be able to rock out to. But they make it work so well. Colin's voice takes some getting used to, but once you're accustomed to how English he sounds, and how non-English he is, you must fall in love. For about a month or two after my bad breakup this was my recovery album, and I couldn't have asked for more.
Favorite track:
On the Bus Mall
Point
-
Cornelius
I only got into this during the winter this year, but to this day I love it to death. I could listen to this album for 24 hours straight, and most likely want to go another 24 hours. To me what makes some music even more beautiful is knowing about the artist itself. And to know that it's just one person writing and making all the music really puts a lot more into my thoughts of it. The dynamics of the sound on this album are much different than anything else I've ever heard. Abstract and ambient noises, water drops, birds tweeting, etc all used in a manner that adds that transcendental feeling to it. I can't listen to this album and not be transformed into a peaceful state. Perhaps I shall make myself really angry and put this on in an attempt to alter that.
Favorite track:
Tone Twilight Zone
The Queen Is Dead
-
The Smiths
School kids chanting in the beginning of this album immediately makes me think of The Wall by Pink Floyd, another album on this list. And the album only gets better as a whole. Morrissey has a way of presenting his emotions in a manner unlike any other singer. I can't even begin to describe it. He easily has the most classical voice of any singer I've ever come to admire. This band does not feel like an 80's band, and this album does not feel like an 80's album. They feel two decades ahead of their time, or two decades behind their time. I can't decide. I'm just sad that I never truly discovered the greatness of The Smiths until two years ago.
Favorite track:
Bigmouth Strikes Again
Rage Against the Machine
-
Rage Against the Machine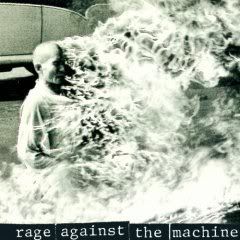 It has been well over a decade since I first heard this album, and to this day it puts me in the same place it did when I first heard it. Even fifteen years later, it still sounds so crisp and flawless. It's easy to say that Rage revolutionized music. Tom Morello is easily the most innovative guitar player ever. The things he does live and in the studio to produce the sounds that he does are remarkable. I have long held views similar to that of Rage's. And I'm sure that I have because before I could even logically think for myself about manners they were discussing, I was already listening to them and starting to learn some things. It's safe to say I was bred into Rage Against The Machine.
Favorite track:
Know Your Enemy
Richard D. James Album
-
Aphex Twin
The only reason this album made it on here is because of how many times I've listened to it while tripping on acid. I'll be as blunt as possible and as honest as possible. Because of how many times I've done this, I can listen to this album and instantly think of those things that I'd thought of so many years ago. Aphex Twin is a ridiculous composer, but I feel a lot of his other albums have weak tracks. This one has always been my favorite of his by far. There are so many good tracks on here it's almost as scary as the cover.
Favorite track:
4
Start Here
-
The Gloria Record
Although this is not my favorite Gloria Record album, it's the most worthy because it's an LP and not a 5 song EP. Their sound is a lot more evolved than the two previous EPs. There's a lot more insrumentation and more emphasis put on production. In my opinion there's not a single weak moment on the CD, although I didn't initially feel that way at first because it's a total change of pace from the first two EP's. They have always, and will always, be my favorite "emo" band. And they deserve a place on here. I was fortunate enough to meet Chris Simpson, the singer, a year ago in New York. It was truly fascinating. He was easily one of the most genuine and sincere people I've ever met in my entire life. He was very appreciative to speak to me, and very respectful and generous. I didn't think I could have fallen more in love with him, but I did. This album will forever remind me of almost an entire year back in 02, when I was trying to ween myself away from emo, and did so by listening to this.
Favorite track:
Ascension Dream
Through The Windowpane
-
Guillemots
Although Geoff tries to take credit for this one, I have no choice but to give it to Leah. I heard them for the first time in Geoff's car, but only for about two minutes or so. Never listened to an entire song or anything. Then I realized that there was this new band I'd never heard of creeping up my number one neighbor's charts, and low and behold it was a band named Guillemots. I downloaded the album late one night and put it on hoping to fall asleep after it. That plan failed. I had to play it again. Then I was able to fall asleep. The album starts creeping into your veins with the amazing introductory track "Little Bear", and it never leaves you until the closing notes of "Sao Paulo". I am proud to say that I have since turned a bunch of my friends into Guillemots fans. Normally I like music but I try and hoard it and keep it as my own. But with Last.FM and the generosity of certain people, I've learned that that's not the way music is meant to be. It's meant to be shared and heard by everyone. "Trains to Brazil" may easily be the best rock song in recent memory. It's so catchy, I don't see how anyone young or old could not like it.
Favorite track:
Trains to Brazil
Tiny Music... Songs From the Vatican Gift Shop
-
Stone Temple Pilots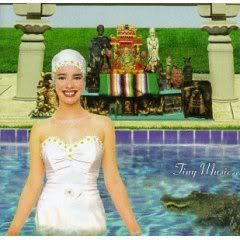 Another album that defined a part of my life, I had this album almost immediately after it came out. It was the second CD I ever owned, and as such I used to listen to it constantly. One great song after another, this album truly exhibits what drugs do to songwriting skills. In case you missed that reference, drugs make songwriting better. This was their first album that started creeping away from the grunge sound that they helped define, and they did such a good job progressing their sound. Normally when bands start changing their sound, it's for the worse. Stone Temple Pilots started it off right with this album, but lost it shortly after this came out when Scott Weiland went to jail and rehab. Oh well, further proof that all good things must come to an end.
Favorite track:
Seven Caged Tigers
The Wall
-
Pink Floyd
As a child I remember making my dad repeat the part "Look mommy, there's a little plane up in the sky". Or whatever the kid says. It wasn't until seventh grade when I stole my dad's CD and started listening to it. Instantly I thought I was discovering something great, and boy was I right. It didn't really hit me until eighth grade how unique this album is, and the meaning it has behind it. Eventually I was able to see the movie, which only added to that emotional element so much more. I have only ever sung at karaoke once, and the one song I did was off of this album. The track was "Nobody Home". And even the best of singers would butcher this song, because they didn't go through what Roger Waters did. This will forever be cemented in time as the best double disc release ever. If you want to contest that, try me.
Favorite track (disc 1):
Mother
Favorite track (disc 2):
Nobody Home
Kommentarer