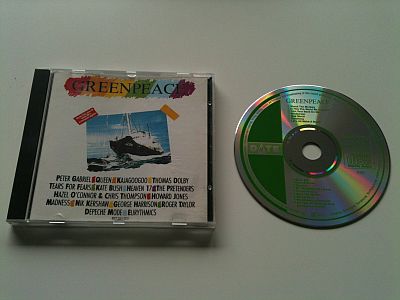 As we travelled around Europe on mid-80s Summer holidays, the
greenpeace
album was an omnipresent soundtrack. As happened too often with cassettes, the tape was last heard emitting an unpleasant screech, almost certainly not helped by being left in a searing hot car.
It appears that the CD of this album can now be bought for €50. Fortunately, I have managed to find most of the tracks for rather less. Indeed, only the George Harrison track (which was never the highlight of the compilation, even in it's rerecorded form) remains to be found.
1
Shock the Monkey
2
Is This the World We Created?
3
Turn Your Back On Me
4
Windpower
5
Mad World
6
Breathing
7
Let's All Make A Bomb
8
Show Me
(live in Detroit)
9
Push + Shove
10
Equality
11
Wings of a Dove
12
Human Racing
13
Save the World
14
Killing Time
15
Blasphemous Rumours
16
No Fear, No Hate, No Pain (No Broken Hearts)