Robert, 49, Man, Storbritannien
kicior99.blox.plSenast sedd: senaste månaden
1

2

5

5

7

7

spelade låtar sedan 4 jul 2008

Flöden
| | | | | |
| --- | --- | --- | --- | --- |
| 1 | | | | |
| 2 | | | | |
| 3 | | | | |
| 4 | | | | |
| 5 | | | | |
| 6 | | | | |
| 7 | | | | |
| 8 | | | | |
| 9 | | | | |
| 10 | | | | |
| 11 | | | | |
| 12 | | | | |
| 13 | | | | |
| 14 | | | | |
| 15 | | | | |
| 16 | | | | |
| 17 | | | | |
| 18 | | | | |
| 19 | | | | |
| 19 | | | | |

Flöden
| | | | | | |
| --- | --- | --- | --- | --- | --- |
| 1 | | | | | |
| 2 | | | | | |
| 3 | | | | | |
| 4 | | | | | |
| 5 | | | | | |
| 6 | | | | | |
| 7 | | | | | |
| 8 | | | | | |
| 9 | | | | | |
| 10 | | | | | |
| 11 | | | | | |
| 11 | | | | | |
| 13 | | | | | |
| 14 | | | | | |
| 15 | | | | | |
Om mig
Witajcie! Welcome! Bienvenue! Wilkommen! Tervetuloa! Добро пожаловать!
Cóż, tu powinno być coś o moim guście muzycznym. Jest on tak dziwny jak gospodarz i właściciel tej strony - niespójny, niekonsekwentny, wahający się od muzyki klasycznej po punk rocka. Szczególnie jednak lubię złote lata rock and rolla, bluesa, a także rock progresywny. Słowem - dokładnie to, czego byście się mogli spodziewać po takim starym rowerze :)
Well, something should be said about my musical taste. As you will have noticed, it is neither congruent, nor cohesive, nor consistent: a big pall-mall composed of a variety of genres, ranging from classical music to punk rock. The main stress has been put on the golden era of rock and roll as well as the progressive rock, typical for an old fart that I actually am. Besides, in my opinion really good songs are few and far between.
Si l'on devrait dire quelque chose de mon goût, celui-ci n'a jamais été conséquent et j'adore prèsque tous les genres de la musique, particuliérment ceux des années 60, ainsi les grandes et petites tubes du rock classique, si bien que du rock progressif.
Was sollte ich von meinem Muzikgeschmack sagen? Er ist verschieden, kaum dicht, man kann hier fast alle Sorten finden, von den grossern Klassikern bis zum Punk Rock und sogar Metall. Besonders mag ich aber die Jahren 60er, wie auch 70er mit seinem progressiven Geruch - alles, wie ein Mann in meinem Alter kennen muss. Ja, ich weiss genau, dass ich etwa 40 Jahre früher geboren sein sollte.
Tällä paikalla minun taytyisi sanoa jotakin minun muusiikkimakustani. Eipä ole yksinkertainen, vaan monipuolinen et voitte täällä löydä melkein kaikki tyylit, muun muassa klasiista musikkia, jazzia, rockia ja paljon muita. Varsinkin pidän vuosista 60 - 70, miten pitäisi odota tuomoista vanhasta miestä, kun minä olen.
Надо cкaзaть что-нибудь о моем вкусе. Он вообще необыкновенный, впрочем состонт с видов, которые почти все знают и любят: и класcика, и панк... Особенно мне нравятся золотые годы рок-н-ролла: Битлз, Роллинг Стоунз и другие, кроме того прогрессивный рок: Пинк Флойд, которых считаю самую лучшую рок-группой во всем мире.
http://pl.wikipedia.org/wiki/Wikipedysta:Kicior99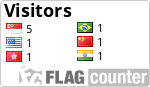 Senaste aktiviteter
kicior99 och dana58 är nu vänner.

december 2012