RSS
Dela
20 dec 2007, 07:04
Oh 2007, you've come and gone and left a shitload of music behind. Record sales were, uh, dismal and the top 5 selling albums of the year were
Daughtry
,
Akon
,
Fergie
,
Hannah Montana
(not even a real person!), and
Carrie Underwood
.
Beyonce
's "
Irreplaceable
" was the No. 1 single of the year, followed by
Rihanna
's "
Umbrella
" Both have been nominated for a Grammy for record of the year. Rounding out the top five was
Gwen Stefani
at No. 3 with "
The Sweet Escape
," Fergie's "
Big Girls Don't Cry
" at No. 4, and, my personal favorite,
T-Pain
's "
Buy U A Drank (Shawty Snappin')
" at No. 5. Alas, I have tried to stay in my right mind and not give in to my teenage-girlish urges to buy whatever MTV and VH1 tells me to and feel I have done a job well done. Anywho, here's my personal Top 20 albums & top 5 concerts of the year, as chosen by me.
#20
Holy Fuck
- LP (Canada)
Highlights:
Super Inuit (Live)
,
Lovely Allen
Wow, an instrumental techno album made the list!
#19
Kings of Leon
- Because of the Times (Tennessee)
Highlights:
Knocked Up
,
Black Thumbnail
The first 6 are truly amazing, too bad the rest just cant keep it up.
#18
Mystery Jets
- Zoo Time (UK)
Highlights:
Diamonds In The Dark
,
ZooTime
A great compilation of all their previous works. Got to see 'em live as well!
#17
The Cribs
- Men's Needs, Women's Needs, Whatever (UK)
Highlights:
Our Bovine Public
,
Men's Needs
Great, great album from the 3 Jarman brothers. Definitely unexpected, much better than their others.
#16
Band of Horses
- Cease to Begin (Seattle)

Highlights:
Cigarettes, Wedding Bands
,
Ode to LRC
Just found this a month ago, caught me by surprise. A lot like My Morning Jacket. Great album.
#15
Babyshambles
- Shotter's Nation (UK)
Highlights:
Carry Up on the Morning
,
Delivery
Doherty's best since the Libertines, filled with loose songs about, uh, DRUGS!
#14.
Smashing Pumpkins
- Zeitgeist (Chicago)
Highlights:
Doomsday Clock
,
7 Shades Of Black
Okay, so its not REALLY Smashing Pumpkins, but man can Jimmy Chamberlin hit the drums.
#13.
The Hives
- Black & White Album (Sweden)
Highlights:
Hey Little World
,
Bigger Hole To Fill
A wee bit disappointing and experimental, but how can you not love the crazy Swedes? +Sick cover art
#12.
The White Stripes
- Icky Thump (Detroit)
Highlights:
Rag & Bone
,
Catch Hell Blues
Some of it's a little weird, but the rest is fucking awesome, shame they canceled their tour.
#11.
Two Gallants
- Two Gallants (San Francisco)
Highlights:
The Deader
,
The Hand That Held Me Down
Went to middle school with these guys, fantastic new album filled with Delta-folk/Blues Rock goodness and great storytelling lyrics.
********
Highlights:
You're A Wolf
,
Winter Windows
First heard of these guys when I saw them at the Treasure Island Music Festival this year and instantly fell in love. They're sound is eerily creepy but surprisingly melodic. A bit depressing? Yeah, but half the album would easily make my top 50 tracks on the year. If you don't have this, GO GET IT!
Liars - Liars (...all over)
Highlights:
Plaster Casts of Everything
,
Clear Island
Definitely the odd man out on the list. Liars are known for their drastic shift in style with each album and this one finds them experimenting with noise rock and punkier, more melodic songs. One of the strangest bands i have ever seen, they like to make a lot of noise. This is certainly not for everyone.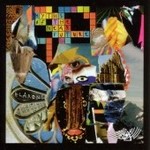 Klaxons - Myths of the Near Future (UK)
Highlights:
Atlantis to Interzone
,
Gravity's Rainbow
Nu-rave? Rave-rock? Dance punk? Whatever you call em, Klaxons know how to write a catchy tune. They've even created their very own subculture. 'Myths' is an excellent debut album that will not disappoint. Great live band also.
Highlights:
Pioneer to the Falls
,
Mammoth
On their third album, Interpol perfectly manages to expand their sound while keeping what made them so great in the beginning. Their dark sound is so much more embellished as all 4 members grow musically. The lyrics remain sub-par, but really, who listens to the words anyways?
Highlights:
I'm Designer
,
Battery Acid
Yeah, it was a flop, SO WHAT? I love QOTSA and this album, filled with quirky, robotic jams, certainly didn't disappoint me. JOSH HOMME IS A FUCKING TANK. Lyrics of the year might just go to I'm Designer:
I'm high class I'm a whore, Actually both, Basically I'm a pro, We've all got our own style (of baggage), Why hump it yourself?, You've made me an offer that I can refuse, (course either way I get screwed), Counter proposal: I go home & Jerk off. UH!
Highlights:
No Cars Go
,
Intervention
Nobody thought the Arcade Fire could match the astoundingness of their first album Funeral in 2005, but man were we wrong. The Arcade Fire continue be one of the most musically diverse bands out there and continue to fight against the common affairs of the music business through creative marketing and spontaneous shows. There's lots more to come from these guys.
Highlights:
D Is for Dangerous
,
Old Yellow Bricks
The boys from Sheffield do it again! Never have a band exploded so fast. Favourite Worst Nightmare reveals the band's musical depth and showcases the incredible songwriting of frontman Alex Turner. On their sophomore album, the Monkeys maintain their hate for poseurs and continue to be stubborn towards musical convention. I wouldn't be surprised if their next album came out next year. Arctic Monkeys WILL be one of the greats of our era.
Modest Mouse - We Were Dead Before The Ship Even Sank (Washington)
Highlights:
March Into the Sea
,
Invisible
,
Spitting Venom
We Were Dead Before the Ship Even Sank has Modest Mouse finally rediscovered their form and figure in a way that is completely unexpected. I couldn't have asked for a better release from a better band. Some say they've sold out, but they can't help popularity. Isaac Brock's awesome lyrics and seaman lisp that he flaunts constantly keep Modest Mouse's charm through the whole album. I fell in love with this album and you will too.
Highlights:
15 Step
,
Bodysnatchers
,
Reckoner
,
Jigsaw Falling into Place
This is the first time I've actually paid attention to a Radiohead album release and what a good time to start. By now everyone's heard In Rainbows (TWAS FREE!) and I have to say I wasn't that pleased at first because it seemed too mellow. However, this album has grown on me like no other. This album is truly amazing and Radiohead further proves themselves to be the world's most talented and innovative band. Just give it a chance.
#1
Spoon - Ga Ga Ga Ga Ga (Texas)
Highlights: I honestly can't choose
This was the first Spoon album I bought. I'd never really paid attention to the band before, but Ga (x5) wowed me instantly. The song-subjects are so random and perfect (See:
My Little Japanese Cigarette Case
). Britt Daniel's voice is rough and contrasts perfectly with their minimalistic sound. From the stomping opener
Don't Make Me a Target
to the introspective, but oddly titled,
Black Like Me
, Ga Ga Ga Ga Ga is certainly worthy of the #1 Album of the Year Award.
EP of the Year:
Yeah Yeah Yeahs
- Isis (NYC)
Highlights:
Rockers To Swallow
,
Down Boy
I was worried about the YYY's after their last album but this awesome EP gives me confidence about their future.
Top 5 Concerts of the Year
1. Muse - Bill Graham Civic - 4/9
2. Queens of the Stone Age - Warfield - 12/20
3. Wolfmother - PNE Forum (Vancouver) - 2/22
4. Galactic - Fillmore - 10/13
5. Arcade Fire - Greek Theater - 6/2
Kommentarer