RSS
Dela
11 jun 2011, 09:42
http://stereogum.com/729642/givers-make-tv-debut-on-fallon/video/
June 19, 2011
Mark Your Calendars - June 28
Rave On Buddy Holly


Covers by Great Artists


Sample a She & HIm Cover Below





Well the LAST album I thought I'd be looking for this summer is a

COVER ALBUM

! I mean, come on, who the hell wants to hear a bunch of wannabes play songs by other people! Right? Think again my friends. When I hear the following artists:

She & Him, The Black Keys, My Morning Jacket, Paul McCartney, Cee Lo Green, Nick Lowe, Justin Townes Earle, Julian Casablancas, (and on and on and on) gathered to record the covers of the late/great Buddy Holly, it got my attention! And unless you live under a rock, you may want to circle the date of June 28th on your music calendar, body clock, or whatever makes you tick 'cause the album, "Rave On Buddy Holly" will drop in our laps that day. And here's your first sampling of She & Him singing Buddy's song "Oh Boy."



Click hear for She & Him Sample of Buddy Holly's "Oh Boy"

Enjoy friends and guests ~ and let me know what you think ~ you know, in that shout thing over there on the left. And If you don't like the song, then just

Gawk @ ZOEY Here

for while. (HEY! I didn't force you to go there)! Long live Buddy Holly's Music! ~Lance
~ ~ ~ ~ ~ ~ ~ ~ ~ ~ ~ ~ ~ ~ ~ ~ ~ ~ ~ ~ ~ ~ ~ ~ ~ ~ ~ ~ ~
June 10, 2011
Full Plays & Free Downloads Below
The Rosebuds


Their New Album: Loud Planes Fly Low
Released June 7, 2011



Play Sample >>>> Life Like
Free Download >>Rosebuds: Life Like

Play Sample >>>> Get Up Get Out
Free Download >>Rosebuds: Get Up Get Out

Play Sample >>>> Second Bird Of Paradise
Free Download >>Rosebuds: Second Bird of Paradise

The Rosebuds have been spinning music since 2003. The samples and downloads above are from 3 different albums. "Life Like" is from the self-titled album (2003), "Get Up Get Out" was released on the album

The Night of the Furies

(2007) and finally, "Second Bird of Paradise" is from their latest release

Loud Planes Fly Low

(2011). The Indie couple met in college and have been putting out some pretty good music since. You may like 'em.


* - * - * - * - * - * - * - * - * - * - * - * - * - *
June 8, 2011
Born in Norway, this Norwegian is gaining the ear of many fans. Mostly for his simple, yet complex chording embedded in his songs. When I listen to Sondre, he just makes me feel good. And I can't help but hear a bit of Paul McCartney in the song "Domino" and that's just fine by me. He dropped his first album when he was just 19-20 years old and has produced a total of seven (7) since then. I haven't sampled them all yet, but that's on my "to do" list. So this young 31 year old has a lot going for him ~ I encourage you give him a bit of your "ear time."
~ Lance
Listen ~ Stream ♫ Sondre Lerche ♫ Here ~ Enjoy




Private Caller 3:43 --> FREE DOWNLOAD


Sondre Lerche
* - * - * - * - * - * - * - * - * - * - * - * - * - *
New Album DropsJune 7 2011
The Cults


Dreamy & Mesmorizing Vocals
Takes You Back to The 60's
....but in a good way....


Stream The Cults Here ~ Enjoy
* - * - * - * - * - * - * - * - * - * - * - * - * - *
One of My FAVORITES
Sick Puppies


Give a Very Personal
Acoustic Concert ~ It's Worth Your Time
* Enjoy *

Click Here for Sick Puppies Concert


* - * - * - * - * - * - * - * - * - * - * - * - * - *
May 31 ~ 2011

Here's an excellent release by My Morning Jacket on May 31, 2011. Although my page has a sampling link of the new album, "Circuital" the link below will give you a video of the title track.

My Morning Jacket On VH1's Storytellers

Look for this album as it hits the airwaves ~ I predict it will be one of the albums of the year. But you can be the judge of that.

You can get a Free Promo Download from Amazon.com ~ I highly suggest going there (if you can) and grab it while you can.

It's all about the ♫ ~ Lance.



* - * - * - * - * - * - * - * - * - * - * - * - * - *
You Have to at Least
Give This Artist/Album a Try
Art Brut


Releases the Album
"Brilliant! Tragic!" ~ may 23 release ~


FULL STREAM THE ALBUM 'Brilliant! Tragic!
Get Some Culture!
Project Jenny, Project Jan


Just Some Clever Art + Music





After a Rather blah
Album Release in 2006
The Donkeys


May Be Onto Something Here
With New Album: Born With Stripes




Full Play of > I Like the Way You Walk



Genevieve Schatz's Voice
Lures You In...
Company of Thieves


New Album Release
Scheduled for March 17, 2011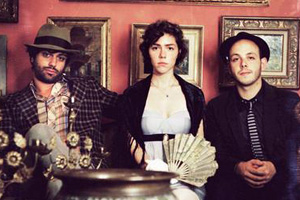 Let's face it, this band IS Genevieve Schatz. If you like female vocals that have that somewhat dreamy but not boring sound, then check out
Company of Thieves
. You have to go back to 2009 for their first album release "Ordinary Riches" and the award winning song,
Oscar Wilde
. This blog is just in time to give you an advance notice that they are releasing a new album on May 17 entitled,
Running From a Gamble
. I give this group 3.5 stars out of 5. Good to listen to, but I find myself moving on to another artist rather quickly.
It's About Time This Band
Is Gaining Popularity!
Silversun Pickups


Re-releasing 2 Albums in 2011





Working Hard to
Polish Her Musical Art
Ashelyn Summers


Deserves a little EarTime


Although most artists don't really like to be compared to others as they try to carve their own unique niche in the music buisness, being compared to Amy Lee of
Evanescence
can't hurt Ashelyn Summers. I find listening to Ashelyn takes me to the brink of gothic, then pulls me back from the edge as the instrumentals, especially piano, keeps me from completely taking the plunge. And Ashelyn is marketing her craft with free downloads right here on LastFM. I took some time and downloaded her gifts. If you care to join me, go to
Ashelyn's LastFM Page
and accept her gifts as well.
I Usually Don't Do Much
Electronic or Dubstep ~ but....
Jason Falkner- Only You
(Zeds Dead Remix)


Is Excellent ~ I Go Nutz @ 1:15...





***************************************************************

I'm Always Looking
For that "Unrecognized" Talent ~ I Recommend:
The Shivers


And there's some free stuff down there!


As usual, I stumbled onto this group surfing the ♫ blogs out there. At first I was a bit skeptical 'cause this band has reinvented itself multiple times. So when you listen to an album from earlier years, you hear a band trying to find itself. Or maybe that what intrigues me about them? Let this song,
♫ The Shivers - Used To Be
be an introduction to your ears. it's from their new album to be released in May 2011. After that, enjoy and even download the following freebies. "Dark of the Moon" and "Cry of Love" tend to be my favorites.



Dark Of The Moon

Follow the Rain

Cry Of Love

House Of The Spirits

You can download the above songs by the Shivers from LastFM FREE MP3's HERE



* * * * * * * * * * * * * * * * * * * *

This New Album
Is Growing on Me ~ How 'bout you?
Cold War Kids


I've not been a big Cold War Kids fan to this point. I really don't have a reason ~ probably just didn't catch my "ear attention". But this album caught my curiosity. I've played it 'bout three times now, and each time it lures me in a bit more; enough to pursue some of their earlier stuff. I also give them an "A+" for creativity. I recommend you CLICK THIS SITE and play around a bit with the band members as they play the song, "I've Seen Enough." You control each band members' involvment in the song, and you can change the way they play the song as well. Go ahead ~ have a little fun with this.



►◄►◄►◄►◄►◄

so when my life seems to be drifting afar,
i pick up my hollow body guitar.
and begin to play a song loved only by a few,
Jesus Christ by Brand New




and i feel whole again....

►◄►◄►◄►◄►◄



What do you get when you
bring back the 50's, add some U2, a bit of KOL,
and a raw rock sound? Yep you saw it here first!
Mona



You decide...Play It / Own It



Compared to T-Rex
Talented Young Men on the Rise
Smith Westerns




Sample Smith Westerns

►◄►◄►◄►◄►◄



Rock is NOT Dead
Well Arranged Album ~ Edgier Band from SC
Quarterfly




Sample Quarterfly



►◄►◄►◄►◄►◄




Feeling a Bit Acoustic?
Then I Recommend Some...
Dallas Green aka City and Colour


Try Body In A Box for great song.
Slow down and listen to the lyrics my friend.

►◄►◄►◄►◄►◄



If You Like the Decemberists
I Introduce You to...
The Builders & The Butchers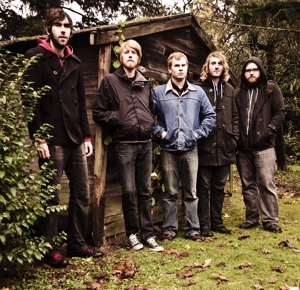 The Builders & The Butchers Website
Sample Their Music - DO IT
Enjoy a Band From
Cincinnati, Ohio
The Seedy Seeds


I didn't think I'd ever be rockin' or swayin' (whichever comes first) to a trio who plays banjo with a bit of folk/pop sound spiked with just enough electronics to make you want to do a little dance. Since I'm an Ohio boy ~ it's always nice to recommend groups from the Buckeye state. I mean, I did recommend Akron's Black Keys on here a looooong time age. Not to pigeon hole this trio, but they sound a little like a souped up Weepies. But that's a good thing 'cause I spin the Weeps once in awhile.

Play me/or Save Me The Sleepy Seeds - Verb Noun





Aja Volkman's Amazing Voice
"Beast" is F*ckin' Great
Nico Vega


For those of you who follow my blog, I've promoted Nico Vega before. Theire latest EP, "Nico Vega Covers Nico Vega & Rod Stewart" is worth your "ear time". Some tunes are remixes like "Million Years" and "Beast". Personally, I'm in ♥ Aja Volkman's voice. She could sing the ABC's and I'd melt. And of course, I'm going to lead you to some FREE songs. If you CLICK HERE, it will take you to 3 free legal downloads. You'll have to give up your email adress, but who gives a shit ~ it's worth it. If you just want to stream some samples, go to Nico Vega's MySpace Page. Enjoy.





♪ ♫ ♪ ♫ ♪ ♫ ♪ ♫ ♪ ♫ ♪ ♫ ♪ ♫ ♪ ♫ ♪ ♫ ♪ ♫ ♪



It's Official
WORST SINGER/VIDEO EVER


If You Like Shit Like This
Please Never Return to My Page





♪ ♫ ♪ ♫ ♪ ♫ ♪ ♫ ♪ ♫ ♪ ♫ ♪ ♫ ♪ ♫ ♪ ♫ ♪ ♫ ♪



I'll Be In Line For This One
The Joy Formidable's New Release Mar 15, 2011
The Big Roar


Just listen

Greyhounds In The Slips or get a
free download



♪ ♫ ♪ ♫ ♪ ♫ ♪ ♫ ♪ ♫ ♪ ♫ ♪ ♫ ♪ ♫ ♪ ♫ ♪ ♫ ♪



It's Irish Week Here At My House
Let's Start It Up With Some...
Ashley MacIsaac




♪ ♫ ♪ ♫ ♪ ♫ ♪ ♫ ♪ ♫ ♪ ♫ ♪ ♫ ♪ ♫ ♪ ♫ ♪ ♫ ♪




Play MacDougall's Pride
Play Sleepy Maggie

♪ ♫ ♪ ♫ ♪ ♫ ♪ ♫ ♪ ♫ ♪ ♫ ♪ ♫ ♪ ♫ ♪ ♫ ♪ ♫ ♪



Mostly Country Alt but Good Stuff
SXSW (free) Sampler


Now I'm not always a big fan of sampler albums, but Bloodshot Record's "Sxsw 2011" is worth your time. And once again, I'm leading you to FREE music (while it lasts) Amazon.com has it @ Go to Amazon Now. You can download the entire album or individual songs. I"m not sure if non-US residents can access this (sorry) but if you do a search there's other sites doing a promo of the album. Here's the song list:


1. ♪♪♪♪ Never Thought I Would by Eddie Spaghetti
2. ♪♪♪♪ Giant Strides by Ha Ha Tonk
3. ♪♪ Already In Love by Exene Cervenka
4. ♪♪ Bad News by Whitey Morgan and the 78′s
5. ♪♪ Intertwined by Maggie Bjorklund
6. ♪♪♪ Getting Used to Uselessness by Jon Langford and Skull Orchard
7. ♪♪♪ Behind Me Now by The Silos
8. ♪♪ East Jefferson by Ben Weaver
9. ♪♪♪ Still Drunk, Still Crazy, Still Blue by Scott H Biram
10. ♪♪♪ Hell's Roof by Waco Brothers



♪ ♫ ♪ ♫ ♪ ♫ ♪ ♫ ♪ ♫ ♪ ♫ ♪ ♫ ♪ ♫ ♪ ♫ ♪ ♫ ♪



Time for Some Garage Punk
The Ettes


blogging / following them this weekend




Let's see, you can stretch back to about 2005-06 to find The Ettes establishing their roots. I pulled them up mostlly 'cause the word on the street is they are gonna' put a new 5th album out this year (2011). Lindsay "Coco" Hames has that Joan Jett voice going on ~ and that's a good thing ~ right? Most got their first listen to The Ettes when thier song "Crown of Age" made the soundtrack of the movie "Whip It". They have opened or been on stage with some recognizable band; The Black Keys (2008), Kings Of Leon (2009) and The Dead Weather (2010). Give 'em a try, then slap on some Go Go's when you're done. ♫ Lance...



You can Sample The Ettes Links Here

Dead and Gone
Crown of Age
No More Surprises

♪ ♫ ♪ ♫ ♪ ♫ ♪ ♫ ♪ ♫ ♪ ♫ ♪ ♫ ♪ ♫ ♪ ♫ ♪ ♫ ♪



Introducing


The White Soots




For those of you who read your mail ~ well ~ i sent you these links to listen to The White Soots. If you like bluesy-rock similar to the White Stripes (God bless Jack & Meg) or the Black Keys (if you don't ~ why are you my friend??) ~ then you will find this band on the way up. Okay, they may be a little rough around the edges right now, but they've only been playing since 2009. You can download their entire debut album for FREE ~ yes ~ it's legal. Just CLICK HERE for White Soots Free Album and enjoy. Okay ~ Okay ~ if you want to download each damn song one-by-one, go to LastFM's downloads by CLICKING LASTFM's LINK here.

♪ ♫ ♪ ♫ ♪ ♫ ♪ ♫ ♪ ♫ ♪ ♫ ♪ ♫ ♪ ♫ ♪ ♫ ♪ ♫ ♪


George Thorogood
Still (

bad to the bone

)] Dammit!
After grabbing a $5 used George Thorogood vinyl version of "Bad to the Bone" at a local used record/cd store (frickin' place owns me) I couldn't help myself and downloaded an additional 20 songs. That pretty much blew the rest of a Saturday 'cause I strapped the guitar on and indulged in a duo with George for over four hours. I don't have a hollow-body electric guitar (as pictured) but have one on order. Can't wait!


♪ ♫ ♪ ♫ ♪ ♫ ♪ ♫ ♪ ♫ ♪ ♫ ♪ ♫ ♪ ♫ ♪ ♫ ♪ ♫ ♪



The Limousines: luv or hate 'em? ~ still makes me wanna dance ~





~~~~~~~~~~~~~~~~~~~~~~~~~~~~~~~~~~~~~


Shout Out Louds ~ worth a listen...



Picked up their latest album (Works) on feb 20, 2011 and have enjoyed it. It was released about a year ago. The group is from Sweden and have a unique sound. They have two other earlier releases (Howl, Howl, Gaff, Gaff ~ 2003) and (Our Ill Wills ~ 2007).
~ Please, Please, Please ~


~ Very Loud ~


~ The Comeback ~


~ Tonight, I Have to Leave ~
~~~~~~~~~~~~~~~~~~~~~~~~~~~~~~~~~~~~~



Yuck's New Release is Feb 15 ~ gooood stuff



Let's Go Nostalgic w/ T.Rex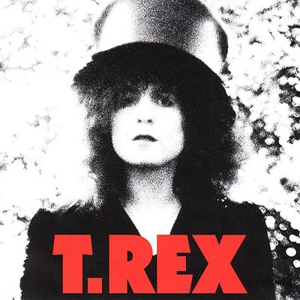 You gotta' love the girls dancing in this T. Rex video ~ I'm in love with the one at 0:38 :-)