RSS
Dela
23 nov 2008, 01:03
This's just like... my opinion, man.
10.
Mouth of the Architect
[USA] -
Quietly
There are plenty of bands playing this sort of atmospheric post-rock/sludge hybrid nowadays, but few do it nearly as well as MOTA. This record is a pretty major step up from 2005's
The Ties That Blind
, both in terms of musical maturity and songwriting. "A Generation of Ghosts" is a hands-down pick for song of the year.
09.
Cosmic Atrophy
[USA] -
Codex Incubo
Copypaste from my last journal...

THE death metal album of 2008. Cosmic Atrophy are a duo out of Houston that does what nobody truly ventured to do - pick up where Demilich left off with their legendary Nespithe album. Codex Incubo is a bit on the short side [just under 34 minutes if you count the outro track] but it does an amazing job of expanding on the ideas Demilich put forth 15 years earlier. Don't worry, though, it's not a clone by any means. These guys are already hard at work on their next album, so there will more than likely be plenty more where that came from.

08.
Hammers of Misfortune
[USA] -
Fields
/
Church Of Broken Glass
To be perfectly honest, I thought these guys were finished after Mike Scalzi left to focus on
Slough-Feg
, but John Cobbett managed to put a new lineup together and soon have not one but two albums ready. This is a definite step up from
The Locust Years
, which, while fun and memorable, lacked the complex riffage and instrumental interplay of the first two albums. The melodies here are much stronger and a number of the songs recall that epic scope of
The Bastard
and
The August Engine
. The only thing holding the double-disc back is the fact that the new male vocalist, though competent, simply doesn't lend the personality to the band's sound that Scalzi did. He doesn't own the scenery, so to speak, but rather fades into the background.
07.
Ruins
[AUS] -
Cauldron
Not many bands playing black metal nowadays are of interest to me, but this album is definitely pretty special. Tasmanian BM including but not featuring the Haley brothers of
Psycroptic
. The music, however, is more like a mixture of
The Chasm
and
Deathspell Omega
, so clearly it's nothing at all like Psycroptic, which is a good thing nowadays.
06.
Grayceon
[USA] -
This Grand Show
This one kinda snuck up on me. I loved the first Grayceon album to death, but I hadn't fully digested it yet, and wasn't yet ready for another helping. But here it is. Another epic piece of gorgeous guitar/cello interplay, with improved vocals and an even more mature take on songcraft. These guys are like Opeth, King Crimson, Ved Buens Ende,
maudlin of the Well
and
Apocalyptica
all rolled into one.
05.
Cynic
[USA] -
Traced in Air
Every time I listen to this album, I question my sexuality. Only
Queen
's early work is capable of that same feat. This is arguably the best post-reunion record ever. Every bit as unique and masterfully composed/arranged as
Focus
, but with a much stronger production and vocals that don't sound like Max Headroom. Granted, there's room for improvement in the vocal department [a pipe dream of mine is for
Steven Wilson
of
Porcupine Tree
/
Blackfield
to have performed them], but they fit the music like a glove. It sounds homoerotic as hell, but it's still another masterpiece of fusion/prog/metal/whatever from these guys.
04.
Secret Chiefs 3
/
John Zorn
[USA] -
Xaphan: Book of Angels Vol. 9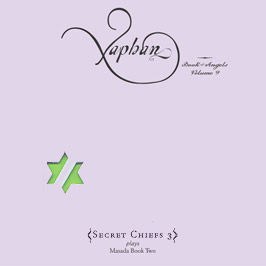 I was on pins & needles waiting for this album, after 4 long years since
Book of Horizons
. I was definitely not disappointed. The music here is basically
Masada
compositions, written by John Zorn, with arrangements done by Trey Spruance and SC3. It's every bit as intriguing and diverse as previous SC3 albums. Though one has to wonder when there will be an actual SC3 album, composed by Spruance & co.
03.
Pharaoh
[USA] -
Be Gone
Being a traditional metal band from the U.S. is about as thankless a job as you'll find. you work your ass off both perfecting your instrumental skills and writing riff after awesome riff, and what do you get for it? Maybe move about 1500 units domestically? A couple dozen people show up to your gigs? Unless you're
Iced Earth
, in which case you've been on cruise control for almost a decade, knowing that you can put out any old piece of shit with your logo on it and hundreds of thousands will gobble it up like the unwitting guttersluts they are.
Regardless, Be Gone is the third and arguably best effort yet from Pharaoh - AKA: Tim Aymar's band after
Control Denied
. There's oodles of brilliant riffs here, with less blatant
Iron Maiden
influence than in the past. The songs are also more succinct than on 2006's
The Longest Night
. My only complaint is that there's not enough low end to the mix.
Arghoslent
fans should appreciate this... unless they're part of Arghoslent's 'target audience'.
02.
Opeth
[SWE] -
Watershed
Right up until late October, I thought for sure that this was a lock for #1, but something unseated it. This is the best and freshest-sounding Opeth album since 1999's
Still Life
. Not only are they finally introducing some new ideas to what was one of the most firmly entrenched sounds in all of music, but they're also cutting down on the excessive repetition that plagued the last few records.
01.
Virus
[NOR] -
The Black Flux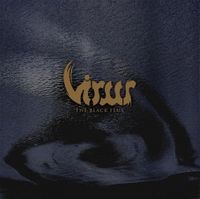 Remember how hard your dick got when
Ved Buens Ende
announced a reunion? Remember how quickly you turned flaccid when it ended up falling apart? Well, fortunately some of the songs written by Czral & Co. for that were used instead on Virus' 2nd album, along with several more songs written shortly afterward. The whole record is absolutely stellar. The riffs are even quirkier than on
Carheart
without sacrificing any of the infectiousness. The vocals are a point of contention, but I can't imagine anything better or more fitting for this music. Not even Snake from
Voivod
[another obviously major influence]. This is a seriously addictive album that's going to have a lot of staying power.
======================
Honorable mentions:
Revocation
-
Empire Of The Obscene
Intronaut
-
Prehistoricisms
Enslaved
-
Vertebrae
Gigan
-
The Order Of The False Eye
Esoteric
-
The Maniacal Vale
Dismember
-
Dismember
Keep of Kalessin
-
Kolossus
Severed Savior
-
Servile Insurrection
Bloodbath
-
The Fathomless Mastery
Dead Congregation
-
Graves Of The Archangels
Testament
-
The Formation Of Damnation
Oh, and I reserve the right to revise this list at any time, without prior notice. :)
==========================
Immolation
Opeth
Runemagick
Pharaoh
Voivod
Blind Guardian
Iniquity
Deceased
Secret Chiefs 3
Edge of Sanity
Bolt Thrower
Deathevocation
Gorguts
Sleepytime Gorilla Museum
Solefald
Fates Warning
King Crimson
Anata
Dark Tranquillity
The Book Of Knots
Porcupine Tree
Iron Maiden
Morbid Angel
The Angels of Light
Zealotry
Oxbow
Adramelech
Dismember
Primordial
Sodom
Keep of Kalessin
Sigh
Alchemist
Nile
Manilla Road
Atheist
Sotajumala
Death
Swans
Nick Cave and the Bad Seeds
The Lord Weird Slough Feg
Negură Bunget
Hammers of Misfortune
Atrocity
Suffocation
Demilich
Kreator
Slayer
Testament
Stargazer
The Chasm
Soundgarden
Incantation
The Firstborn
Red Sparowes
Leviathan
Necrophobic
Enslaved
Catacombs
Grails
Origin
Katatonia
Bauhaus
Portal
Monstrosity
Abramelin
Blut aus Nord
Samael
!T.O.O.H.!
Dissection
Nevermore
Bruce Dickinson
Meshuggah
Thinking Plague
Autopsy
Candlemass
The Jesus Lizard
October Tide
Queen
Defeated Sanity
Intestine Baalism
Ophiolatry
Solitude Aeturnus
Orphaned Land
Disillusion
Entombed
Caspian
Gustav Holst
Convulse
DeathevokatioN
The Grifters
Coldworker
Deathspell Omega
Dawnbringer
Void of Silence
Dark Angel
Igor Stravinsky
Gregor Samsa
Tool
Pig Destroyer
Necrophagist
Television
Crypticus
Agalloch
The Crown
Cerberus Shoal
Ancient Rites
Rotting Christ
The Birthday Party
Ludwig van Beethoven
Liars
Root
Faith No More
Purtenance
Demons & Wizards
Cadaver
Corpus Mortale
Fleshless
Watchmaker
Judas Priest
Kaamos
Satyricon
Carnage
Duobetic Homunkulus
光田康典
Melt-Banana
Nifelheim
Cryptopsy
Evoken
Arghoslent
Disgrace
Cannibal Corpse
Martyr
Immortal
Sentenced
Emperor
Behemoth
Big Black
Summoning
Ved Buens Ende
Horslips
Indukti
Arcturus
Disembowelment
Metallica
Esoteric
The Fucking Champs
Art Bears
Motörhead
Exodus
Radiohead
Hail of Bullets
Hypocrisy
Blackfield
Mr. Bungle
Neurosis
Skyclad
Afflicted
Rottrevore
Carpathian Forest
Nokturnal Mortum
Dead Congregation
Brodequin
Hour of Penance
Negurã Bunget
Sargeist
Dies Irae
De Lirium's Order
Ravenous
Gospel of the Horns
Vintersorg
Forgotten Tomb
Mortuary Drape
King Diamond
Septic Flesh
Yattering
Skyforger
Krisiun
Shellac
Amorphis
Love History
Carcass
Mortem
Thou Art Lord
Led Zeppelin
Ludicra
Abigor
Abaddon Incarnate
Funebrarum
Appalling Spawn
Loudblast
Usurper
Axis of Advance
Pere Ubu
Anathema
Virus
Morgion
Belphegor
Resurrection
Internal Suffering
Slint
Revenant
Possessed
Kommentarer