RSS
Dela
6 apr 2008, 01:44
I am pathetically, hopelessly in love with
Miracle Fortress
. I have been since December, which is when I re-discovered their album
Five Roses
(sadly not available for streaming - boo). Back in June last year I snagged a copy after reading
a short but favourable review in The Guardian
. At the time I was getting through a lot of new albums, mostly based around what the Guardian recommended. I can remember sitting at my desk at work and listening to it on my iPod, and thinking "Man, this is good." Then work distracted me and I forgot about it completely.
Miracle Fortress would next break into my consciousness in December when the opening track came up randomly in my MP3 player. I listened to the whole album for a second time, thinking "Man, this is
really
good". I played it again immediately. I've listened to it a
lot
since then. I can't recommend it highly enough. It sounds like my ideal relationship would sound - intimate, intelligent, delicate, and subtly quirky.
Amazon will sell you a copy for £13.50
but you can find it on
eBay for about a fiver
.
Back in December I was gutted to find out that Miracle Fortress had
played in London about a week before I re-discovered them
, so I was delighted when they announced they were
playing in London again
.
Twice
. I don't normally get crushed out on musicians/bands, preferring to remain somewhat aloof and rational about it all. Not so with MF, and without shame I bought tickets to both shows. As it turns out the second gig - the one they were headlining - clashed with a previously-scheduled trip to the dentist. The appointment that could not be rearranged. There was nothing for it but to do both in one day.
The dentist, fortunately, was an amenable chap. "I'm going to a gig tonight and I intend to enjoy it," I explained. "I don't drink or do drugs so there's no side effects to worry about - so if you wanted to go somewhat OTT with the anaesthesia I'd appreciate it." He obliged, and after my root canal I trotted off to the gig with a numb face in a paracetamol/ibuprofen/codeine haze.
Just before the support band took to the stage I spotted Miracle Fortress in the audience. Encouraged by my friend I trotted up to them and did my best to be charming, polite, and human. So obviously I ended up acting like a cloying, over-reverent fanboy. Thanks to the Novocaine there may have been some dribbling and mumbling involved too. I babbled; they smiled, and signed my CD. "Do you have a pen?" they asked. "YES!" I bellowed, thrusting a CD marker into their waiting hands.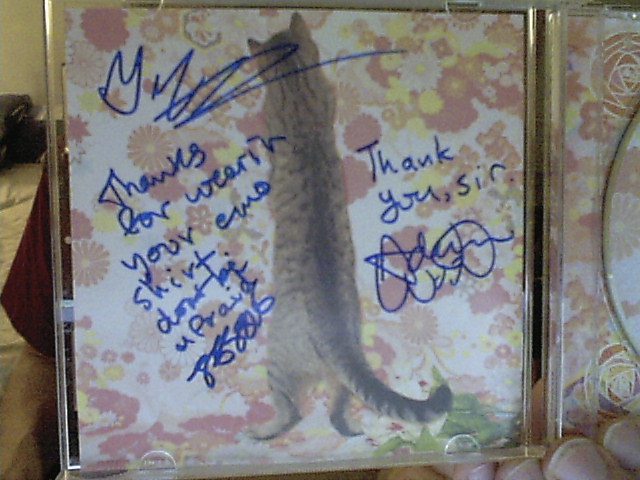 I was wearing my
emo shirt
that day - partially because it matched my shoes, partially because it wouldn't show the blood from the dentist. I ran off with my tail between my legs when the support band started playing. (They're
The Joy Formidable
and are
rather
good
. They too are also not streamable on Last.fm. Boo.) One of my colleagues (thanks,
lumberjack
) told me that I should tell them I worked for Last.fm, so I re-approached
Graham Van Pelt
afterwards and thrust some Last.fm badges into his hand, chasing off an attractive woman in the process. He accepted them slightly hesitatingly, which is to be expected when a crazy person gives you something sharp and pointy.
They played a good, if somewhat short, set. Fortunately I had heard some
live
recordings
before the two gigs, otherwise I would have been shocked and disappointed. It's not that they're bad live, it's just quite different to the recorded sound. GvP's vocals are more gaspy; the sound is more harsh. It will not seduce you the way the album does, but you will enjoy it if you let yourself. I would have liked to hear them play
their cover
of
Digital Love
, but 'twas not to be. They looked like they had fun on stage and that's always nice to see - I like a band who enjoy what they do.
The
show on Wednesday
was also good, though alas I missed about two thirds of MF's set due to a scheduling mishap and some not-so-fast food. I'd only heard one track by
Patrick Watson
(only one track streamable; boo!) and quite liked it but live I didn't think he was that great. If you locked
Coldplay
and
Mogwai
in a room and refused to let them out until they'd written something together, you'd have got the Patrick Watson set - plus he seemed just a little bit smug. I liked it when he climbed into the centre of the audience and sang
Man Under The Sea
unamplified; I liked it when they improvised a closing song; I liked it when he focused on his melodic side and didn't venture too far into the experimental (I found myself giggling at one point when their performance was screaming 'IMPROV' at me). It was good, it just wasn't astonishing.
Graham Van Pelt hinted that they'd be back in London this December; I suspect my crush may still be alive and well.
Kommentarer