In Metalli Nomine. Skål!, 26, Man, Nederländerna
www.demons-eye.meSenast sedd: januari 2013
1

4

6

2

0

spelade låtar sedan 8 sep 2010
3 594 Älskade låtar | 2 202 inlägg | 1 blandband |

528 hojtningar

Flöden

Flöden
| | | | | | |
| --- | --- | --- | --- | --- | --- |
| 1 | | | | | |
| 2 | | | | | |
| 3 | | | | | |
| 4 | | | | | |
| 5 | | | | | |
| 6 | | | | | |
| 7 | | | | | |
| 8 | | | | | |
| 9 | | | | | |
| 10 | | | | | |
| 11 | | | | | |
| 12 | | | | | |
| 13 | | | | | |
| 14 | | | | | |
| 15 | | | | | |
Om mig
"In the chains of oblivion
Of the coming force of joy
You will cry
"Here is my land!"
Here's a little bed time story for the lot of you:
Iam 26
Iam from saxon territory a.k.a De Veluwe, thats the big green spot in the Netherlands and not Holland. (Holland are our western provinces a.k.a North and South Holland)
I hate homophobes
I hate metalheads who bash each other diversity is what unites us. You're nothing to me if you bash another metalfan who listens to something entirely else than you.
I despise religion and their zealous ilk.
Iam Ásatrú and don't ask what it is because iam tired of explaining it.
I love thunderstorms.
Iam a metalhead, hard rock fan and folk enthusiast
Iam an individual
I respect you if you respect me its that simple.
Iam a drinker of Jagermeister and mead
Iam a meat eater extrodinaire.
Iam a loner and that suits me just fine
And one simple thing: That i listen to pagan, folk or viking metal and that i know the runes and their meanings and that iam an ásatrú doesn't mean that iam a neo nazi, i damn well know their sick ideology and i avoid them like the black death. In short anyone who shares their ideology have no bussiness on my profile.
This is who iam and if you don't like what i wrote here well you can stick it in a place where the sun doesn't shine, oh (and this is written in capital letters) DO ME A BLOODY FAVOUR AS I HATE RANDOM FRIEND REQUESTS, LEAVE ME A SHOUT WHEN YOU DO. OH AND BEFORE I FORGET I DESPISE LAST.FM MEMBERS WHO COLLECT PEOPLE JUST TO ENHANCE THEIR "STATUS".
ANOTHER THING THAT IRKS ME IS THAT IF YOU'RE A FRIEND COLLECTOR DON'T EVEN BOTHER ADDING ME BECAUSE I WILL DENY THE REQUEST WITHOUT LEAVING A NOTICE.
"Through the gates of pub!
As we make our way to tavern!
Through the drinkers lines!
Mead'o Victoria!"
"Plague... the christian plague
Invades The Empire and threatens the sun
Insults to the pagan gods
means punishment by death
A disease that eats away, the core of existence
Persecution is the only way
to rule without decay"
The Christian god shall never find his peace in my heart, and i shall never bent my knee for the children of the moon crescent.
My sword for Tyr
My blood for Thor
My heart for Odin
We are those who come faster than fate. We are those who ride early or late. Nordic wrath storms your iron gate. Sailing Death, mankind be afraid. Sons of Odin we are!
Heil dir Walvater und den Asen
Vor großer Schlacht red ich zu dir
Gib mir Kraft gib Mut und Stärke
Sei heut wohlgesonnen mir
Schütze mich Thor auf meinen Wegen
Magni und Modi leitet mich
Tyr die Schlacht ist dir zu ehren
Im Tod euch treu und ewiglich
Und soll ich heut mein Leben lassen
Ohne Furcht mein Schwert erheben
Soll Blut auf Midgards Erde prasseln
Schenk mir Valhallas ewig Leben
Heil dir Walvater und den Asen
Vor großer Schlacht red ich zu dir
Mein Vertrauen gilt dir Freya
Schenke einen Sohn noch mir
Dieser soll mir Ehre bringen
Mit Stolz mich füllen wo ich auch bin
Feinde in die Knie zwingen
Die Wege gehen die ich einst ging
Iam the jarl of these 3 groups, come check it out and join in the discussions or add your own.
#1
http://www.last.fm/group/I%27m+a+MetalHead+and+Proud+of+It
#2
http://www.last.fm/group/Long+Haired++Metalheads
#3
http://www.last.fm/group/Headbangers+That+Are+All+About++Metal
Looks can be deceiving don't they?
Old German drinking verse
"Leeret mit Andacht das Horn
den Met, der den
Götteren entstammt
wer redet vorschnell im Zorn
der trinke, bis Weisheit
entflammt"
Metalcore, Hardcore, Emocore, Grindcore and Pig squeals are not metal. Those who utilize them only do so, because they can't accept that they have no talent and must make absurd sounds to make up for it.
The Challenge of Thor
Henry Wadsworth Longfellow
I AM the God Thor,
I am the War God,
I am the Thunderer!
Here in my Northland,
My fastness and fortress,
Reign I forever!
Here amid icebergs
Rule I the nations;
This is my hammer,
Miölner the mighty;
Giants and sorcerers
Cannot withstand it!
These are the gauntlets
Wherewith I wield it,
And hurl it afar off;
This is my girdle;
Whenever I brace it,
Strength is redoubled!
The light thou beholdest
Stream through the heavens,
In flashes of crimson,
Is but my red beard
Blown by the night-wind,
Affrighting the nations!
Jove is my brother;
Mine eyes are the lightning;
The wheels of my chariot
Roll in the thunder,
The blows of my hammer
Ring in the earthquake!
Force rules the world still,
Has ruled it, shall rule it;
Meekness is weakness,
Strength is triumphant,
Over the whole earth
Still is it Thor's-Day!
Thou art a God too,
O Galilean!
And thus singled-handed
Unto the combat,
Gauntlet or Gospel,
Here I defy thee!



You are 100% MetalHead
You should be getting this score if you consider yourself a metalhead. Good job and keep on listening to metal! Conformity is death
How much of a MetalHead are you?
Take More Quizzes
What Kind of Metalhead are You?
Your Result:
Heavy Metalhead
You love the old, old school. When thing's were simpler and Birmingham was the centre of the world.
You're favourite bands may include Saxon, Iron Maiden, Judas Priest, Witchfinder General and Mercyful Fate.
Result Breakdown:
95% Heavy Metalhead
87% Power Metalhead
57% Thrasher
52% Prog Metalhead
37% Death Metalhead
28% Black Metalhead
2% Poser
Quiz Created on GoTo Quiz
If you were in a mosh pit, there's a 0% chance you would die!!
Hell yeah! You are the pit boss! A true metalhead, you can decipher the genuine from the posers. As the badass of the group, you'll probably be the one getting the action started. LONG LIVE TRUE METAL!!
Would you get killed in a mosh pit?
Take More Quizzes
What Metal type are you?
Your Result:
Heavy Metal
You are into classic riffs and older era styled bands. You prefer not to be diverse in your choice of music, you just want something that is catchy and nothing extreme. You probably like bands like Judas Priest, Manowar, Exciter, Black Sabbath...etc
Result Breakdown:
92% Heavy Metal
59% Power Metal
51% Death Metal
51% Black Metal
46% Thrash Metal
41% Progressive/Technical Metal
15% Nu Metal
7% Not Metal
Quiz Created on GoTo Quiz
Saxon-Thunder's top 15 albums (overall):
1. Heidevolk - Uit Oude Grond (250)
2. Heidevolk - Walhalla Wacht (244)
3. Sabaton - Coat of Arms (120)
4. Sabaton - World War Live-Battle Of The Baltic Sea (114)
5. Heidevolk - Wodan Heerst MCD (85)
6. Heidevolk - Batavi (84)
7. Heidevolk - De Strijdlust Is Geboren (81)
8. Grave Digger - The Clans Will Rise Again (58)
9. Sabaton - The Art Of War (Re-Armed) (58)
10. Powerwolf - Blood of the Saints (54)
11. Manowar - Gods of War (52)
12. Powerwolf - Bible of the Beast (50)
13. Sabaton - The Art of War (43)
14. Arkona - Goi, Rode, Goi!!! (42)
15. Týr - The Lay of Thrym (41)
generated 07.04.2012
generated 07.04.2012
Wyrd bið ful Ãræd
"Fate remains fully inexorable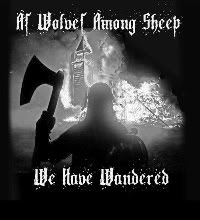 "People fear what they don't understand and hate what they can't conquer".
Andrew Smith
There's an heathen in everyone of us, just waiting to be unleashed.
Your God requires:
Blood sacrifice
Subjugation of women
Annihilation of cities
Slaughter of multitudes
Unquestioned obedience
Murder of his own son
Destruction by flood
And as the grand finale.
He plans to destroy the world by fire!
And you ask me why I'm a pagan?
An awsome limerick written by gib_l
"While pouring green tea from the kettle
A loud noise my ears did unsettle
'twas nothing to fear
Just meant Henri was near
I love you for lovin' the metal"
rock on dude \m/
269% Headbanger
193% Alcoholic
204% Mosher
-------------------
666% Metalhead
Shout it from the hilltops. Proclaim it on the plains. The ancient gods will never die once we invoke their name.
"In Odin's name,
In Odin's time.
"I hear the call,
I enter the hall.
"My choice is here,
my path is clear."
"Urdh, Skuld, Verthandi."
"Lo there do I see my Father
Lo there do I see my Mother, my Sisters and my Brothers
Lo there do I see the line of my people
Back to the beginning
Calling me to join Them
Bidding me to take my place among Them
In the Halls of Valhalla
Where the brave
May live
Forever."
Odin, far-wanderer, grant me wisdom,
Courage, and victory.
Friend Thor, grant me your strength.
And both be with me.
Hail to The Red Thor
The Mighty Enemy of Hvitakrist!!!
Beware the return of our mighty Gods
We march all as titans
In a storm of fury, violence and lust
Through mountain,
Through forest, o'er sea
We sojourn,
Follow each strike of Mjöllnir
Cross torch lit night.
Hew, hack, slay -
In red battle rage
Revendicate, through the strength
Of iron and blood.
Reap them we shall
As an autumn harvest.
Beware The Return Of
The Northern Gods!
Allfather Odin
God Of The Warriors
Shake Now Your Spear
Giver Of Justice, Maker Of Law.
We Fight Against The Alien Foe
Be With Us Now
As In The Skies
The Bloodred Flames Of War Arise
And We March Forth Singing...
Beware The Return Of
The Northern Gods!
Sons of Odin we are!
The Commandments Of Metal
1. Thou Shalt Get The Beers In
2. Thou Shalt Own Records By Black Sabbath
3. Thou Shalt Wear Denim And Leather
4. Thou Shalt Not Dance Like A Girl
5. Thou Shalt Not Covet Thy Neighbour's Axe
6. Honour Lemmy And Ozzy
7. Thou Shalt Not Kill The Volume To Accomodate Others
8. Thou shalt Avoid Gaudy Colours
9. Thou Shalt noy Take The Lordi's Name In Vain
10. Facial Hair Is Messy And Often Catches Food. We're Just Saying
11. SLAYAAARGH
update my seen-live-list
|
get your own list