Albums of 2013
135 – 121
135
Dropkick Murphys -
Signed and Sealed in Blood
It would be really hard for Dropkick Murphys to release something that wasn't at least really decent.
It's not a concept album like
Going Out in Style
was, so I can't be completely enthralled by it but it certainly has a fun aspect to it. For the most part, it's a quick collection of fast little songs, which is an underrated concept nowadays in and of itself.
Is really that different from their releases? No, not at all. To be fair, they don't have a cliche formula so this isn't a huge issue but any and every artist needs to take it upon themselves to advance their sound, regardless of opinion.
It's a nice and fun listen, that's for sure.
134
Riton - Lost My Mind
Oh Henry, you shoodn't 'av!
Ed Banger records tend to be either the worst releases on the planet or some of the better ones, this falls somewhere in the middle. It's rather forgettable, considering what
Sebastian
or even
Kavinsky
are doing, though it's not like it's not still slightly better than most other 'club' releases this year.
But, honestly, it's rather paint-by-the-numbers. Maybe,
maybe
if this came out in 1994 it would be a little more impressive but it simply runs too many standard tropes into the ground to actually be called even slightly unique or 'necessary'.
Lyrically, it's beyond terrible so let's just not even discuss 'words' and 'how to use them'.
Instrumentally, it's super lazy. There are some interesting song structures here though, you have to give credit where it is due.
I mean, to be fair, it's totally fine. The record is just okay, but it has some serious faults barring it from being anywhere even remotely close to 'good'.
Whatever, it's just a 2013 French house EP, there's not exactly a lot riding on it.
133
Patty Griffin - American Kid
We've reached a point, as a global civilization, where we call something amazing just because it doesn't suck. And that's a bunch of crap.
This is good, this is totally fine. High-five worthy, a totally competent album. But in what universe is this anything better than
average
? I swear, you kids need to stop being so impressed with everything. Seriously, it must be exhausting.
She can sing, write, and play, all very well. Big flippin' whoop, so can everyone else. This girl has more wit than most, I'll give her that. But come on people, listen to a god-forsaken classical album once in a while. This is bush league, mostly everything post 1940s is bush league. Millions died in WWII but the most devastating casualty of all was standards.
Lyrically, this is great. It's funny, it's sad, it runs the gauntlet of the emotional spectrum. A round of applause is due, seriously. But
come on
. That's about it. Don't get me wrong, it's a good folk album. It understands that lyrics have to be bulletproof for such simple composition, that's rare, and it deserves a massive thanks for that.
Look, I'm not saying that you need to suffer for great art, but it usually helps. There is
nothing
at stake here,
nothing
. That's something folk has
always
suffered from. There's like five musicians every generation that understand that folk needs a plethora of dimensions to it, not just a first-person narrative over an acoustic guitar. It's just like soul music, your music is only as interesting as you are.
Now, remember, the artist is supposed to be separated from the art. That's what rational beings understand. But, an artist is supposed to pour themselves into their art. If you've had such a dandy life with no unique perspective of the world, there is no point in you making music. I don't care if it makes you happy, I don't care if you know all the chords, there is no point in you making art. Because it just amounts to you doodling on the cave wall, while others are painting what they saw outside while fighting the sabertooth. Sure, you're entitled to your doodles, but don't pretend you're better or even equal to a new perspective.
This is why I'm not supposed to know how something is being received before I review it, because I throw a childish tantrum about it. But come on you stupid idiots, what is this?
This
is your album of the year? Pffffffft, get out, and take your stupid 'it's all just opinions' with you.
I mean really, there are musicians that sit in the dark for five years and lose all contact with the outside world trying to make good music. And they usually do. Because they give a crap about actually doing something. They're trying to make their name actually mean something. But this, this is just pleasant.
Just
pleasant. Nothing more. It has zero impact and will not earn any interest on it's artistic worth, which doesn't sit all too high to begin with.
I swear to God, it's all post-modernism's fault. "Let's see what happens." Screw that, plan it out and make something new. I'm so sick of listening to all this crap every year, there's always an awesome handful of albums that truly understand what they're doing, and then there's a couple hundred piles of crap, defending themselves with "COULD=SHOULD, OPINIONS BRAH." Grow a pair and push yourselves. Think outside of the box that is your comfort zone, you bunch of spoiled brats.
Whatever, the album's fine. That's it:
fine
. Not good, not great, not amazing, not perfect, not worthy of renown. Fine.
132
Justin Timberlake -
The 20/20 Experience
You know what's not cooler than a million dollars?
JT don't misunderstand, don't misunderstand/
What I'm trying to tell ya/
In the corner of my mind, corner of my mind/
JT it feels like we're running out of time.
The song structure throughout is both super lazy and contrived but it
still
manages be a pretty nice little record. It's an hour and ten minutes, which is
far
too long for this to ever be called a great album, but it's nowhere near a worthless trip.
But really, how big of a piece of crap do you have to be to actually enjoy
Suit & Tie
? I mean, sure, the percussion is neat, but everything about that song is every reason that people who value nostalgia should be exiled to Antarctica. It embodies all of the typical 'real' music 'values' and perfectly shows why they're inferior. It all makes me throw up in my mouth a little.
On their own, each of the elements of this album are wonderful, but when put together they're slightly irritating. It's really does an amazing job of pumping out the most pretentious and irritating auras possible.
At the end of the day, Justing Timberlake was in
*NSYNC
, no one with a functioning organ in their skull should be looking for him to reestablish the roles of convectional instrumentation in modern music. The guy works with
Timbaland
as well, it's not like this achieves anything higher than radiopop.
The entire record is just a pantheon of missed potential. If

Blue Ocean Floor
was recorded with just his unaltered vocals and a nothing more than a piano, I would probably cry for a month or two. It's an overproduced album and that is not a statement of opinion. Just listen to

Strawberry Bubblegum
and please give me a convincing argument as to why this isn't an ultimately deceptive album in it's derivativeness.
Don't get me wrong. I'm a twentysomething male, the concept of sex is innately interesting on some level. But sadly, I'm also an educated member of the twenty-first century, so I require a bare level of intellectual stimuli for any neuros to start poppin'. I am
well
aware that I'm not in this record's target demographic but, if you have even respond to this music with even the slightest twinge of self-respect, you probably aren't either.
Plus some of the songs utilize vocal beatboxing in a totally serious manner.
I gotta get me one of them fake tooths that double as a cyanide pill.
[Editor's Note:] Again, just in case you didn't catch it the first time. Hahaha, it's not that subtle, you all need to step up your game.

And have you noticed yet that all his reviews this year follow the same pattern? A very subtle transition from "It's not a bad record" to "it makes me want to kill myself" haha.
131
Sting - The Last Ship
"So I was thinking I could just sorta sit down, you know? Like, 'Oh man, look, they're not making any more ships where I grew up. They're closing the shipyards, that's what the album's about."
"Yeah, Sting, I know. I just don't really get what you're trying to go-"
"And I'll sit there and I'll like, put my elbow on my knee and just rub my head like, 'Oh man...oh man...what happened...oh man...' You know, in a, like, angsty kind of way."
"No, I understand what it is you're saying, but you're not listening to me. Just because you
can
do something doesn't mean you
should
."
"But I just thought...wait, is this about the accent?"
"Well, you see, it's not that...yeah it is."
If I was given the choice between making it so the Holocaust never happened or getting rid of the accent Sting uses in this album, I would immediately chose the former...but not without a quick stutter, as I think about how nice it'd be to live in a world without the latter.
Seriously, holy flippin' crap, this thing could have been
amazing
without him totally screwing up the entire thing with the most hokey and unnecessary Geordie accent imaginable. It would be the single most pretentious instance of musical ignorance in the last twenty years if modern folk artists from the United Kingdom weren't heavily botching a two-hundred year old American accent and dialect already. Saved by the bell again, Stingy.
I'm not even joking, these lyrics are incredible but why bother even coming close to praising them when they're sung through such groan-inducing exaggerations. Keep in mind, I like Sting, I listen to
The Police
all the time. But what is going on? He needs some 'no-men' around him, saying, "Uh, yeah, that sounds cool and all, but try singing how you actually sing."
The arrangements and instrumentation are absolutely marvelous, but they're sung over by the same stupid accent. It's maddening, it's like watching a train derail in slow motion, twelve times in less than an hour. It just constantly ruins song after song, and they
really
would have been good songs too.
Let's forget about the accept for a second, but
only
for a second. There are some tonal issues with this, not compositionally but structurally. Is this a Celtic-rock album or a jazz album? An old eastern seaboard folk album or a maritime orchestral movement? I understand that this is essentially the score for the musical Sting wrote but I don't see a whole a lot of cohesion here. It sounds like a boring collection of singles. None of the songs are boring, but they don't do each other any favors in the tracklist, that's for sure.
It's okay, that's it. There's a whole dumptruck full of missed potential here, but at least the record stands on its own. It
is
competent, I'll give it that. But so are plenty of other records, so here we are. Just sitting, hands it laps, "Oh...well...that was nice I guess."
The bookend melodies really are quite fantastic but it's just not enough.
130
Mogwai - Les Revenants
Mogwai, the European
Explosions in the Sky
? Consider it.
Now you know I be loving
The Fountain
and its score, so another film score from Mogwai is always appreciated. And they continue to deliver compositions that not only enhance the visuals they accompany but also stand on their own quite well.
The instrumentation doesn't really stray to far from their comfort zone but at least the song structures do. There aren't any explosive moments like they usually utilize on their LPs. Which is a nice change I suppose, maybe not for the absolute best but at least it's a change.
It's all very piano-driven, which is fine, especially for a score. But it occasionally becomes a bit repetitive. They throw in some chromatic percussion every once in a while but not nearly enough. To be fair, making a down-tempo album not devolve into repetition is difficult. Plus the fact that this is a score, so it can't really be marked down for pumping out and continually reinforcing a theme.
It's good though. Not even close to an objectively good score that can stand on its own, but it's thorough and complete enough for what it is.
129
Tegan and Sara - Heartthrob
My favorite thing in the entire world, my
favorite
thing, is that these young ladies want to criticize the music of
Tyler, the Creator
(which they're completely entitled to do) but then they go and make a record like this. It's not bad, but it's certainly not good enough to entitle superiority.
The change in direction is commendable and all that, but don't kid yourself: it's
really
girly pop. Again, nothing wrong with that, but it is by no means
important
music. As in: there's no reason to actually watch a T&S interview and expect a profound statement out of either of them.
I don't know, it's not dripping in competence. Every human deserves a certain amount of respect and credibility, but pop musicians deserve the least of each. It's not like this is even close to a terrible album but seriously, what is this crap? It's not synth-pop, don't kid yourself.
All of these songs,
all
of these songs, would be better performed acoustically.
All
of them.
I Was a Fool
would probably be one of the best songs of the entire year if it was actually performed with some self-respect.
The songwriting is fantastic but the execution is just terrible, just absolutely terrible. It's a shame when this happens, it's like three entire years down the drain.
Whatever, no loss.
128
Mikal Cronin - MCII
Oh
yes
! Self-expression! It's
so
important!
Indie
music! We can do this! Yes! Love and happiness! It's all here! Everyone and everything is so
important
! Ugh, yes! Life! Sometimes it get's hard but you just gotta power through! We're young! Smile! Live, love, laugh! Not all who wander are lost! You can do it! Art is magic!
...you know, I'm just so tired. I can't do it anymore. I don't get how you people do it. I don't understand why everyone doesn't just stand up and yell, "BULLCRAP!" and point at all these flippin' scum-of-the-earth twenty first century musicians who just keep jacking each other off with incredibly derivative work.
It's
exhausting
. I need to start learning new languages just so I can continue criticizing the banality of music today without repeating myself.
It's all the same.
It's
all the same.
It's
all
the same.
It's all
the
same.
It's all the
same
.
It's all the same
.
There, we did it. Those are six different reviews for the six different 'indie' albums that get spit out into the world every week.
Honestly, I can not think of anything to say about this album. It's got that indie-garage-guitar-pop feeling to it, which it shares with a hundred thousand other albums released this year.
Look, it's crap. You may really like it and adore what it does, and that's fine, but, objectively, it's garbage. It does nothing wrong but it makes literally no artistic statement at all, or at least one that hasn't oozed out of the mouth of every other pathetic moron in their twenties at least a billion times before.
I get that people like music, and like to make music, and like to listen to music but it just feels like the entirety of Western first-world civilization has lost the concept of there being a purpose for art. Seriously, just because you're in a band and you play songs and people like you doesn't mean you're not crap. Honestly, people of Earth, please, there is not as much subjectivity in art as you'd like to think.
It's all just so stupid. It all sounds the same. And then when it doesn't, it's even worse. It's either completely blown into pretension or shunned entirely. This whole species of hominids is just unbearable, I'd rather ask the orangutans about their thoughts on art.
And people pay for this. I just...I just need to cry. People actually go to work and use their earnings to buy crap like this album and actually are delusional enough to think it's good. And don't pretend for a second that I'm out of line saying this. People's music preferences are largely established from what they were raised on or discovered at an early age, which means that they listen to what their parents did or what they have access to as a teenager. Just because someone likes something doesn't mean their parents weren't idiots and the place they grew up in wasn't full of them either.
I can't do it. It's only June but I think this is the final straw. I don't think I can be nice about it anymore. Music is mostly objective. Fact. I could hardly care less that this fact is dwarfed almost entirely by the delusion of the opposite. Art is a thing, things have parameters. It is no different from food, at all. Music is exactly the same as food, there are rules. And any form of preference is just a evolutionary trait gained from the environment.
I'm not getting on a soapbox here, not even one that I've gotten on before, but I just don't understand what it is I'm doing. I was commissioned to write a review for this. Why? WHY!?! It's the same exact album I've reviewed a billion times before. It is
so
unfair that I get paid to do this and some kid in Africa is killing and eating beetles to stay alive. It's bullcrap, all in the name of 'art is subjective.'
Yeah, heads up, it sucks. Most art sucks, with an exponent. This album is a testament to that.
Piss off and go listen to something that might change your life. Odds are that it probably exists outside your comfort zone, you ignorant dullards.
127
Andrew Cedermark - Home Life
It's one of those records that you'll like if you know who Andrew Cedermark is and already like what he does, it's not going to win over anyone who doesn't.
It sounds an awful lot like he's just restructuring and repurposing old Christian hymns. And not doing a very good job with it.
The whole thing is just really standard-downtempo-2003-indie-rock. I get it, you know how to play guitar just like other people. Would it kill you to at least try to put some sort of spin on it? Financially, sure it might, but not artistically, brother.
I know I've been doing this to you people all year but I'm sorry: what am I supposed to say? It's really average, and I've reviewed seventeen billion average albums. I've run out of things to say. There are only so many synonyms.
What? It's uninspired? Does that work? Can I get away with using that one again?
Train Window Man
is a prime example of the promise this record squandered. It could have been cool and wafty and solemn but no, it's present and obtrusive and dull.
It's just an average amount of average. It almost has something to say but then remembers that it didn't. No point, move on.
126
James Holden - The Inheritors
Oh hey look, it's another album that
Thom Yorke
thinks he's making.
This is pretty cool. It plays with some simple rhythms in some really interesting ways. If you're into that sort of thing, it's great. If you're not...well, why not?
It's not that it's difficult, heavens no, but it is one of those abrasive and jagged releases that it might not be best to bring home to Ma and Pa. It's a lot of fun, but it ain't exactly pushin' the chords, if you know what I'm sayin'.
Originality isn't exactly one of the strongest aspects tied to the record but it's hardly conventional. The percussion work is always interesting at the least and the instrumentation is varied enough to justify the hour-and-fifteen-minute running time. The general synthesized elements are pretty ridiculously cliche, but 'eh', it works.
But this is really just worth listening to for the percussion, it's very fun. Then he throws in a saxophone and it's great! Sure, some of the tracks just sort of sit in the mud and don't go anywhere but for the most part, it's just a barrel of laughs.
It's not really possible to 'recommend' this album, as it's a bit of an acquired taste and not really worth it once you acquire that taste. Sure, it's great, it's fun, and it's adventurous...but basically lacks a spine of any kind. It's not a huge loss, but it's rather unfortunate.
125
Jim James - Regions of Light and Sound of God
Let's just put it this way: this is easily better than anything
My Morning Jacket
has ever done. And I like MMJ, but this is just an entire step up.
It's got a cool, minimal, downtempo soul feel to it. An acousticy-electronic one too, it's pretty flippin' cool. The dude knows his sounds. This could have been an
absolute mess
but it's thankfully super well done.
The songs don't drone on but they are bit aimless. It's somewhat forgivable though, as it's a semi-experimental record.
Semi
-experimental, so not completely forgivable.
It does carry plenty of the faults that most My Morning Jacket records have though, along with those of their peers. It's just a weird amorphous blob of sound, there isn't and rigidity to any of it. Which is fine, but there's a certain point where 'mellow' ceases to be mellow and is just 'repetitive'.
It's hard to offer any perspective or suggestion because, again, it's a conventionally experimental album. But it is remarkably average as well.
It has this cool, funky, 1970s soul to it but it doesn't really do anything with it. That sentence had a few too many 'its' in it. But the record just doesn't really have any fingerprints on it.
Whatever, if you know who Jim James is you'll probably like this.
It's also pretty overtly Christian, if you're into/against that sort of thing you might want to keep that in mind.
124
Austra - Olympia
A good portion of this sounds like it was ported over straight from
Feel It Break
, which would be a rough criticism if that wasn't such a good album.
Stelmanis still knows how to structure a song though, you can't take that away. No matter how repetitive it could theoretically get, each song organically unfolds in a way that doesn't scream 'contrived' or 'unoriginal'.
Most of the instrumentation on this is organic as well, the band shying away from synthetic sounds and opting for using 'real' instruments. It works, for the most part. The overall sound lies somewhere between full and sparse though, it doesn't quite pick its place as efficiently as their last record.
To be honestly, I'm going to call this a sophomore slump. It's just missing that spark that separates it from other releases. It's not bad or even unoriginal but it would be quite the stretch to call it good.
It has everything their last album had, but not put together in the same ways. There are no interesting clashes in sound. There's nothing to shock and wow you.
And Katie doesn't have any cool yelling moments, that was a personal favorite aspect of the last record. She never gets loud. Not playing to your strengths, gurl.
I'm diggin' the marimbas though, can't squeeze enough of them onto a track. And some of the vocal effects are even more competent than the work on the last album, which is unexpected as they were beyond good enough.
Definitely check out Feel It Break and if you really,
really
adore it then maybe pick this up too. But we can pretty much all agree that it's not as good, right? Right.
123
Chrome Sparks - Sparks EP
Every once in a while comes a release that I
have
to review.
I was at an event with Hailey when

Marijuana
came on the speakers and we immediately ejected from the conversation we were in to find the person responsible for the music. Very shortly thereafter, Bandcamp visits were paid and here we are.
Malvin is a very interesting percussionist and that can only be a compliment when paid to someone involved with electronic music.

Your Planet
, in terms of song structure, isn't even an actual song yet somehow manages to completely knock your subconsciousness out of the park. It's a remarkable feat, one that emphasizes competence.
Marijuana really is something unique though. I absolutely despise that 808 sound that pops in occasionally but it has this really weird
Blockhead
vibe to it, with a tinge of
Nicolas Jaar
. It's a great masthead for the EP and maybe not even the best track.

Cosmic Claps of Love
is quite forgettable though. It's incredibly generic and sounds just like every other electro track from every other twentysomething douchebag DJ.
The magic comes back a little with

Send the Pain On
thanks to the super delightful and oh-so-slow primary tribal percussion. I would absolutely love if he started sampling some old soul songs over material like this, that would be stellar on an another level entirely. Again, some annoying 808 claps, but okay.
Gates To Heaven
sounds really interesting a very 1980s, adult contemporary sort of way, not that I'm complaining. The instrumentation seems to meander inbetween these very hard and rigid beats, which is a very risky approach. It
half
works. It feels like it's struggling for a better melody though and it sounds
so close
to finding one but never really does. Which is sad, because it really could have been something wonderful.
It all ends on a weird
Flying Lotus
-ish vibe with those stupid 808 sounds on Luxa Luna. It's not a particularly good track either. It's aimless and consistently confused. There's too much happening and it's happening all at once.
In short, decent EP with an absolute knockout track in Marijuana.
122
Dale Earnhardt Jr. Jr. -
Patterns EP
I know I mention this every time it comes up, but they have the most insufferably hipster name imaginable. I swear to God, it doesn't get more mind-numbingly postmodern than this.
As for the actual music, it isn't bad. It's always an interesting take on synth rock and this EP perpetuates the notion.
The dynamics of the songs don't
really
work, but it's not lacking any competency. It's a bit too 'white twentysomethings in America' to be taken one hundred percent seriously but it's not like we're talking about
3OH!3
.
Lyrically and compositionally, it's better than average actually. It's not as if it's completely revolutionary or unconventional, but it certainly accomplishes what it sets out to do with more efficiency than its peers.
It's a nice little EP from a decent little band, pick it up if you've got fifteen minutes to spare.
121
Wild Nothing - Empty Estate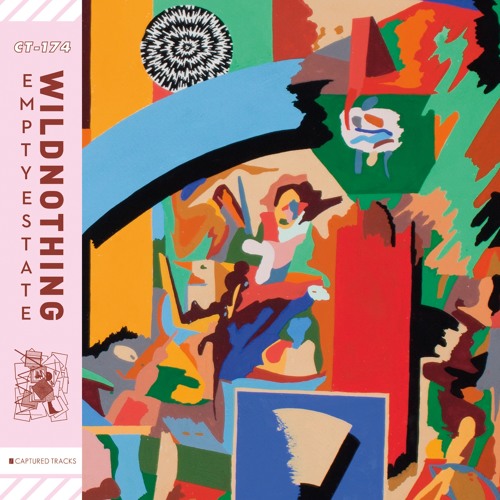 The guy does an awesome cover of
Cloudbusting
, follows it with one of the best albums of last year (
Nocturne
), and then puts out this EP. Good job.
It's a bit more synthy than his previous efforts, and that's not necessarily a good or bad thing. The songs tend to waft around for a while, but not in the efficient way we've grown accustom to Wild Nothing songs doing. They aren't bland or aimless but it feels like there are little air-bubbles in the mold, preventing it from being truly strong. The song structure is a little lacking, you could say.
But he tends to go for more of a 'mood' than anything.
On Guyot
is a superb little number that proves that this release should never be called anything worse than 'worthwhile'. The composition is super inspecific but the atmosphere is equally wonderful.
I would
strongly
recommend Nocturne but this is most definitely a suitable companion piece.
For a sample of each album, click the picture below.