Miguel, Man, Nederländerna
punk-warrior.mybrute.comSenast sedd: september 2009
4

8

4

9

5

spelade låtar sedan 14 nov 2008
310 Älskade låtar | 171 inlägg | 2 blandband |

257 hojtningar

Flöden
| | | | | | |
| --- | --- | --- | --- | --- | --- |
| 1 | | | | | |
| 2 | | | | | |
| 3 | | | | | |
| 4 | | | | | |
| 5 | | | | | |
| 6 | | | | | |
| 7 | | | | | |
| 8 | | | | | |
| 9 | | | | | |
| 10 | | | | | |
| 11 | | | | | |
| 12 | | | | | |
| 13 | | | | | |
| 14 | | | | | |
| 15 | | | | | |
| 16 | | | | | |
| 17 | | | | | |
| 18 | | | | | |
| 19 | | | | | |
| 20 | | | | | |
| 21 | | | | | |
| 22 | | | | | |
| 23 | | | | | |
| 24 | | | | | |
| 25 | | | | | |
| 26 | | | | | |
| 27 | | | | | |
| 28 | | | | | |
| 28 | | | | | |
| 30 | | | | | |
| 31 | | | | | |
| 32 | | | | | |
| 33 | | | | | |
| 34 | | | | | |
| 35 | | | | | |
| 36 | | | | | |
| 37 | | | | | |
| 38 | | | | | |
| 39 | | | | | |
| 40 | | | | | |
| 41 | | | | | |
| 42 | | | | | |
| 43 | | | | | |
| 44 | | | | | |
| 45 | | | | | |
| 46 | | | | | |
| 47 | | | | | |
| 48 | | | | | |
| 49 | | | | | |
| 50 | | | | | |

Flöden
Om mig
I don't use this account anymore. Hate the name, the old music on it and the reputation. My new account is InsanityBringer. Old friends are welcomed to invite my new acc. New friends are as well. Cheers.
My eclectic score is currently
Feel free to copy anything from my profile, don't feel free to do it without letting me know.
15 year old dutch guy trying to bring some excitement to one of the most boring towns here.
68 = Fuck Hitler
WHY THE FUCK DOES EVERYONE HATE EMOS?
If any of you have anything INTELLIGENT to say about this, please tell me. I don't wanna hear "all emo's are fags" or "because they stole our scene" or those other standard shit. If you CAN explain it to me, please do so, if you can't, stop whining about how "terrible" emos are. FUCK EMO HATERS.
No, I'm not your standard punk neither am I an elitist who keeps claiming punk's the only music, I just like the style. And if you guys would know me any better, you'd know I'm more of a hybrid punk/metalhead/goth/emo/whatever you can think. I hate to be put in a corner. I don't want to belong to any group of people, because no group belongs to me. I don't talk to people just "because they are in my scene", I talk to and befriend people I like. You got any problem with it, feel free to explain, as long as it's an explanation, and not a plain shitty hate post/pm.
Yes, I am an anarchist. No, I don't want to burn down this world. Geez... Do you guys even know what anarchy means?
I have nothing against any form of religion. The only thing is that I think a religion, any religion, limits your capactity of free thinking. I have religious friends, and on some subjects they just snap, they can't talk or think about it. This does not mean though that I despise religions. I am not religious, nor will I ever be, but I respect your decision if you are. I don't care.
I'll do everything for my friends. You touch them, be sure you'll be able to find your teeth when both you eyes have been knocked closed. I'm normally not a violent person, but if you only dare to do anything to my friends, you'll wish you'd never done that. Just so you know, not that it is really worth anything on the internet.
From now on I won't waste my time on fascists no more. They have nothing smart to say anyway, and stand by their point that they're soooooo superior to everyone else who walks this earth. Come on then nazi fuckheads, spam my whole profile, so everyone can see what a bunch of damn psycho's you are. If you want to engage in any normal discussion, please don't offend me every sentence, cause then you'll get back what you came for. Nazi asses, go fuck yourself.
Sometimes I wonder about the point in moshing. Why do I run around like a complete idiot, hit people, slam them away and push them to the ground (just to pick them up immediatly after)? It's kind of weird that my favourite activity at a show of my favourite bands involve being pushed around by a bunch of sweaty guys, and leave the show bruised and bleeding. But for some strange reason, I love it. I love to get thrown to the ground by a too-enthusiastic metalhead and then get pulled up by ten stinking hands. I love to shoulder someone into the crowd, although I know the crowd hates it. Conclusion, I'm weird. I can think deep and long about it, point is I just love to do it. Yay for moshpits, circle pits, walls of death, stagedives, crowdsurfs and even the dreaded headwalks!
I just noticed that I have an incredibly long profile, without anything on my personality. But I'll keep it like that. Why? Because I don't feel like writing about it right now, and because you can pretty much get to know it if you read the rest. Maybe one day I'll find the energy to write about it, and it'll be right here. Don't count on it though.
I've just listened
Quotes:
No I Don't Give A Fuck What You Think Of Me
(Anti-flag)
Did you ever feel so open-minded that you really don't belong anywhere?
(Sonic Syndicate)
I don't belong here, I gotta move on dear
(Avenged Sevenfold)
You Can't Arrest Me, I'm A Rock Star!
(Sid Vicious)
You laugh at me because I'm different, but I laugh at you because you're all the same
(Jonathan Davis)
If I Don't Stay True To Myself, Who Will Stay True To Myself?
(Me)
You should never say someone looks like a fag. Everyone has an own taste. Well, you can tell fags they look like fags, but hey, they ARE fags.
(Me)
Test Period? I've Had More Tortilla's then tests this period, it should be called Tortilla period!
(Me)
Nazi's shouldn't die, they should never have been born. It's a subtle difference.
(Me)
When you find yourself crying in a pit, you know something speciali is going on on stage, or you've just had a fist in your eye.
(me)
Protest Against Genre Wars! Tag stuff "new wave of modern punk rock hardcore softcore emo lo-fi cannibalistic vegetarian scandinavian extreme explosive jazz freestyle street-level gothic doom romantic brutal percussive acoustic nu trash gothenburg sludge groove hate math grind metalcore"
All time best band:
Sonic Syndicate
Faved bands (at the moment):
Sonic Syndicate
Arch Enemy
Deathstars
Gothminister
Best live performance
Sonic Syndicate (5/03/2009, Dordrecht)
Seen Live:
Amagortis
Anti-Flag
The Bronx
Cavalera Conspiracy
Dead End Path
Deathstars
Despise
Disturbed
Fucked Up
Grindpad
HIM
The Hives
Insidious Decrepancy
Killswitch Engage
Korpiklaani
Middle Class Rut
Mindless Self Indulgence
Nightwish
Rage Against The Machine
Rentokill
Rise Against
Septical Gorge
Sex Pistols
Serj Tankian
Shinedown
Sin7sinS
Sonic Syndicate
Strike Anywhere
Supreme Pain
Textures
Unmerciful
Will See Live:
OMFG My will see list is empty, now I'm gonna cry
Peoples I DON'T hate:
I Don't Hate Emos
I Don't Hate Pop-Punks (Although I Hate Their Music, Sorry Guys)
I Don't Hate Gays
I Don't Hate Goths
I Don't Hate Metalheads
I Don't Hate Drummers
I Don't Hate Nu-Metal Lovers
I Don't Hate Christians (I just like some music that does)
I Don't Hate Any Other Faith
I Don't Hate Any Type Of Person That Isn't Listed Below
I Don't Hate You
People I Do Hate:
I Do Hate Trve Metalheads (Only If You Brag You're "trve")
I Do Hate Fascists
I Do Hate Elitists
I Do Hate Racists
I Do Hate Axl Rose
I Do Hate Brand-Whores (Look My New Shoes, Theyre All Stars =O)
I Do Hate Every Single Person Who Hates Other People Without Any Explainable Reasons
My Heroes
Roland Johansson
Richard Sjunnesson
Roger Sjunnesson
Robin Sjunnesson
John Bengtsson
Karin Axelsson
Serj Tankian
Sid Vicious
Jello Biafra
Stza Crack
Jimi Hendrix
Kurt Cobain
Please think away Linkin Park, Green Day, Nickelback and Pennywise, they're from my old I-tunes scrobblethingie
[img=http://[spam]/bandlogos/banner.php?user=onlypunkintown&nb=25&type=overall&color=black&layout=OneCol]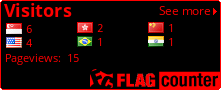 Name: Miguel
Birthday: May 24
Birthplace: Utrecht
Current Location: Houten (sighs)
Eye Color: Dark Brown
Hair Color: Black... for now
Height: 1.75m
Right Handed or Left Handed: Right
Your Heritage: Dutch/Indonesian
Your Weakness: Willbreak
Your Fears: To live a normal life
Your Perfect Pizza: Lots o' cheese and it'll be ok
What Wakes You Up Every Morning: Hardcore Punk
Thoughts First Waking Up: Fuck school
Your Best Physical Feature: Eyes
Your Most Missed Memory: No Comment
Pepsi or Coke: Coke
McDonalds or Burger King: Burger King
Single or Group Dates: Single
Lipton Ice Tea or Nestea: Not Really A Tea Person
Chocolate or Vanilla: Chocolate
Cappuccino or Coffee: Nor Am I A Coffee Person
Do you Smoke: No
Do you Swear: Like once in a motherfucking while
Do you Sing: Scream/Growl, thank you
Do you Shower Daily: Ye
Have you Been in Love: Ye
Do you want to go to College: I'm in right now
Do you want to get Married: No thanks
Do you belive in yourself: Hell Yeah
Do you think you are Attractive: Depends
Are you a Health Freak: No way
Do you get along with your Parents: Sometimes
Do you like Thunderstorms: Ye
Do you play an Instrument: Guitar and vocals
Ever been Drunk: No
Ever been called a Tease: A What?
Ever been Beaten up: Nope, he didn't have a chance
How do you want to Die: I wanna live forever
What do you want to be when you Grow Up: Someone who doesn't answer stupid questions for his profile page because he's to bored to do something else
What country would you most like to Visit: USA, Australia
Number of Drugs I have taken: Fuck you
Number of CDs I own: None
Does someone from the opp sex love you: Without a doubt there has to be someone
Have she told u she love you: Nope
Are you with her right now: Ye, that's one stupid question
Are you ambitious: Yes, I am, ambitious enough for my friends to call me crazy. Am I crazy if I say this world will be mine one day? And remember, I'm serious.
onlypunkintown's top albums
1. Rise Against - The Sufferer and the Witness (1398)
2. Sonic Syndicate - Love And Other Disasters (1332)
3. Disturbed - Ten Thousand Fists (1244)
4. Disturbed - Indestructible (1234)
5. Sonic Syndicate - Only Inhuman (1205)
This Is What They Call You When You're Not A Fucking Idiot Who Follows All The Rules
Your Power Bird is a Vulture
You are always changing your life and the lives of those around you.
You aren't afraid to move on from what holds you back.
Energetic and powerful, you have a nearly unlimited capacity for success.
You know how to "go with the flow" and take advantage of what is given to you.
Your Aura is Violet
Idealistic and thoughtful, you have the mind and ideas to change the world.
And you have the charisma of a great leader, even if you don't always use it!
The purpose of your life: saying truths that other people dare not say
Famous purples include: Mahatma Gandhi, Martin Luther King, Jr., Susan B. Anthony
Careers for you to try: Political Activist, Inventor, Life Coach
Your Power Element is Fire
Your power color: red
Your energy: hot
Your season: spring
Like a fire, you are full of power and light.
A born leader, you easily draw people toward you.
You are full of courage and usually up for anything dangerous.
You have a huge ego and love to be the center of attention.
You Are an Eyebrow Piercing
You are unique, quirky, and more than a little eccentric.
You cultivate the weirder sides of your personality, and you don't mind sharing them.
Ever since you were a kid, you've had strong opinions. You've never been like everyone else, and you're okay with that.
And you've always been able to tell people exactly what you think - even when they don't want to hear it.
You love to create, dream, imagine, and communicate. You live in your own universe.
And unlike most people who live in their own little world, you're happy to invite anyone in!
You Are Punk Music
You've thought long and hard about what mainstream society has to offer...
And you've pretty much decided that most normal things aren't for you.
You're creative, expressive, and likely to do things yourself.
You are a rebel and a fighter. You'll defend your point of view to anyone.
You Are 86% Evil
You're the most evil person you know.
The devil is even a little scared of you!
Evilness test anyone? I warn you, if you ain't a total idiot, you'll score more then 50
Your Taste in Music Says You're Wild
Your musical tastes are intense and rebellious.
You are intelligent... but in a very unconventional way.
You are curious about the world. You love doing something new.
In fact, you enjoy taking risks and doing things most people would shy away from.
You are very physical. It's likely that you're athletic, but not into team sports.
You have the soul of an artist. Beauty and harmony are important to you.
What Does Your Taste in Music Say About You?
Haha XD that code's easy cracked
Mainstreamness
Doesn't correspond with charts? This is the stuff that was NOT scrobbled from my Itunes when I downloaded last.fm
Artist Mainstreamness Listeners Weight
1. Sonic Syndicate 3.57 % 73,578 100 %
2. Leftöver Crack 3.23 % 66,597 33 %
3. Rise Against 25.71 % 535,843 23 %
4. Within Temptation 20.21 % 421,268 21 %
5. Disturbed 33.36 % 695,345 20 %
6. Cancer Bats 1.24 % 25,636 17 %
7. Deathstars 4.69 % 96,690 16 %
8. Bullet for My Valentine 21.19 % 441,653 13 %
9. Slipknot 32.63 % 680,125 10 %
10. Atreyu 16.6 % 345,903 9 %
11. Trash Talk 0.6 % 12,458 8 %
12. Evanescence 46.62 % 971,731 7 %
13. Killswitch Engage 17.93 % 373,611 7 %
14. 36 Crazyfists 8.45 % 174,122 6 %
15. Marilyn Manson 41.48 % 864,496 6 %
16. Gothminister 1.87 % 38,464 6 %
17. Brokencyde 1.17 % 24,141 6 %
18. System of a Down 61.28 % 1,277,213 6 %
19. Avenged Sevenfold 19.39 % 404,102 5 %
20. Arch Enemy 13.94 % 290,458 5 %
21. Against All Authority 2.93 % 60,302 4 %
22. Sonata Arctica 15.83 % 329,950 4 %
23. Nightwish 30.36 % 632,781 4 %
24. Anti-Flag 14.96 % 308,118 4 %
25. Demon Hunter 3.62 % 74,614 4 %
26. Behemoth 7.06 % 147,152 3 %
27. KoЯn 42.43 % 884,353 3 %
28. In Flames 23.2 % 483,440 3 %
29. Total Chaos 0.82 % 17,103 3 %
30. Linkin Park 61.37 % 1,279,140 3 %
Average 13.76 % mainstream
Weekly Top Chart Leaders: (Starting 03/03/09)
Sonic Syndicate 4x
Wednesday 13 3x
Suicidal Tendencies 2x
Heideroosjes 1x
Delain 1x
Rise Against 1x
Trash Talk 1x
Some People Have The Greatest Dreams EVER, this is seriously a dream of a friend of mine
haha miguel ik had weer een rare droom btw
eerst ging het over stage diven en jij was er en mijn opa en oma ? en toen gingen we naar een theater en toen konden we de weg niet vinden en toen zag ik iemand met ronalds kleren ( die zwarte trui weetje wel) alleen het was ronnie nie et was hjt en toen vloog het theater in de vik en ging ik in een heeeeeeeeeeeel laag strappenhuis ( het plafom was heeel laag) en toen werdt ik clastrofobisch en toen werd ik wakker
░░░░░░░░▓▓▓▓▓▓▓▓░░░░░░░░░░░░░░░░░░░░░░░░░░ ░░░░░░░▓▓█░░░░██▓░░░░░░░░░░░░░░░░░░▓▓▓▓░░░ ░░░░░░░▓█░░░░░░█▓▓▓▓▓▓▓▓▓▓▓▓▓▓▓░▓▓████▓▓░░ ░░░░░░░▓█░░░█▓▓▓▓▓▓▓▓▓▓▓▓▓▓▓▓▓▓▓███░░░░░▓░ ░░░░░░░▓▓██▓▓▓▓▓▓▓▓▓▓▓▓▓▓▓▓▓▓▓▓▓▓▓▓█░░░█▓░ ░░░░░░░░▓▓▓▓▓▓▓▓▓▓▓▓▓▓▓▓▓▓▓▓▓▓▓▓▓▓▓▓█░█▓░░ ░░░░░░░░▓▓▓▓▓▓▓▓▓▓▓▓▓▓▓▓▓▓▓▓▓▓▓▓▓▓▓▓▓█▓░░░ ░░░░░░░▓▓▓▓▓▓▓▓▓▓▓▓▓▓▓▓▓▓▓▓▓▓▓▓▓▓▓▓▓▓▓░░░░ ░░░░░░░▓▓▓▓▓▓▓▓▓████▓▓▓▓▓▓▓▓▓▓▓▓▓▓▓▓▓▓▓▓░░ ░░░░░░▓▓▓▓▓▓▓▓▓██████▓▓▓▓▓▓▓▓▓▓▓████▓▓▓░░░ ░░░░░░▓▓▓▓▓▓▓▓▓▓████▓▓▓▓▓▓▓▓▓▓▓██████▓▓░░░ ░░░░░▓▓▓▓▓▓▓▓▓▓▓▓▓▓▓▓▓▓▓▓▓▓▓▓▓▓▓████▓▓▓░░░ ░░░░░▓▓▓▓▓▓▓▓▓▓▓▓▓▓█░░░░░░░░░░▓▓▓▓▓▓▓▓▓░░░ ░░░▓▓▓▓▓▓▓▓▓▓▓▓▓▓█░░░░░█████░░░░█▓▓▓▓▓▓▓░░ ░░░░▓▓▓▓▓▓▓▓▓▓▓▓█░░░░░░░████░░░░░▓▓▓▓▓▓▓░░ ░░▓▓▓▓▓▓▓▓▓▓▓▓▓▓▓█░░░░░░░█░░░░░░█▓▓▓▓▓▓▓░░ ░▓░░▓▓▓▓▓▓▓▓▓▓▓▓▓▓▓█▓█▒▒▒▒▒▒████▓▓▓▓▓▓▓▓░░ ░░░▓▓▓▓▓▓▓▓▓▓▓▓▓▓▓▓█▓█▒▒▒▒▒▒█▓▓▓▓▓▓▓▓▓▓░░░ ░░░▓░▓▓░▓▓░▓▓▓▓▓▓▓▓█▓▓█▒▒▒▒█▓▓▓▓▓▓▓░░▓▓▓░░ ░░░░░░░░░░░░░▓▓▓▓▓▓▓█▓▓███▓█▓▓▓▓▓░░░░░░░░░
Senaste aktiviteter
Onlypunkintown lämnade en raderad grupp.

oktober 2012

Onlypunkintown lämnade en raderad grupp.

augusti 2012