Matt, 30, Man, USA
Psych.Ninja.Senast sedd: mars 2013
3

6

9

6

spelade låtar sedan 22 nov 2010

Flöden
| | | | | |
| --- | --- | --- | --- | --- |
| 1 | | | | |
| 2 | | | | |
| 3 | | | | |
| 4 | | | | |
| 5 | | | | |
| 6 | | | | |
| 7 | | | | |
| 8 | | | | |
| 9 | | | | |
| 10 | | | | |
| 11 | | | | |
| 12 | | | | |
| 13 | | | | |
| 14 | | | | |
| 14 | | | | |

Flöden
| | | | | | |
| --- | --- | --- | --- | --- | --- |
| 1 | | | | | |
| 2 | | | | | |
| 3 | | | | | |
| 4 | | | | | |
| 4 | | | | | |
| 4 | | | | | |
| 7 | | | | | |
| 7 | | | | | |
| 7 | | | | | |
| 7 | | | | | |
| 11 | | | | | |
| 11 | | | | | |
| 11 | | | | | |
| 11 | | | | | |
| 11 | | | | | |
Om mig
I'm an easygoing guy. I'll never say no to making a new friend or a music suggestion (and I think it'd be cool to have a friend from every country). I like talking to open-minded and friendly people. I'm working on my doctorate in psychology and currently work in child and adolescent psychiatry so if anyone has any questions about either, just ask! The things that frustrate me the most in life: rudeness, greed, injustice, and people who are obstinate.
I'm engaged to my beautiful/wonderful fiance...she rocks my world. I finally found a girl that listens to the same kind of music as me, understands me, and plays video games lol.
If you're on Xbox, friend me up there, too. Just let me know you're from last.fm. (my username is my gamertag)
To demonstrate my psych-dorkness is my personality profile below. I think everyone should take one, it's just fun. I mean, all of the cool kids are doing it...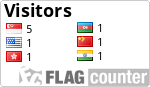 Senaste aktiviteter