Flöden
| | | | | |
| --- | --- | --- | --- | --- |
| 1 | | | | |
| 2 | | | | |
| 3 | | | | |
| 4 | | | | |
| 5 | | | | |
| 6 | | | | |
| 7 | | | | |
| 8 | | | | |
| 9 | | | | |
| 10 | | | | |
| 11 | | | | |
| 12 | | | | |
| 13 | | | | |
| 14 | | | | |
| 14 | | | | |

Flöden
| | | | | | |
| --- | --- | --- | --- | --- | --- |
| 1 | | | | | |
| 2 | | | | | |
| 3 | | | | | |
| 3 | | | | | |
| 5 | | | | | |
| 6 | | | | | |
| 7 | | | | | |
| 8 | | | | | |
| 9 | | | | | |
| 10 | | | | | |
| 11 | | | | | |
| 12 | | | | | |
| 13 | | | | | |
| 14 | | | | | |
| 14 | | | | | |
Om mig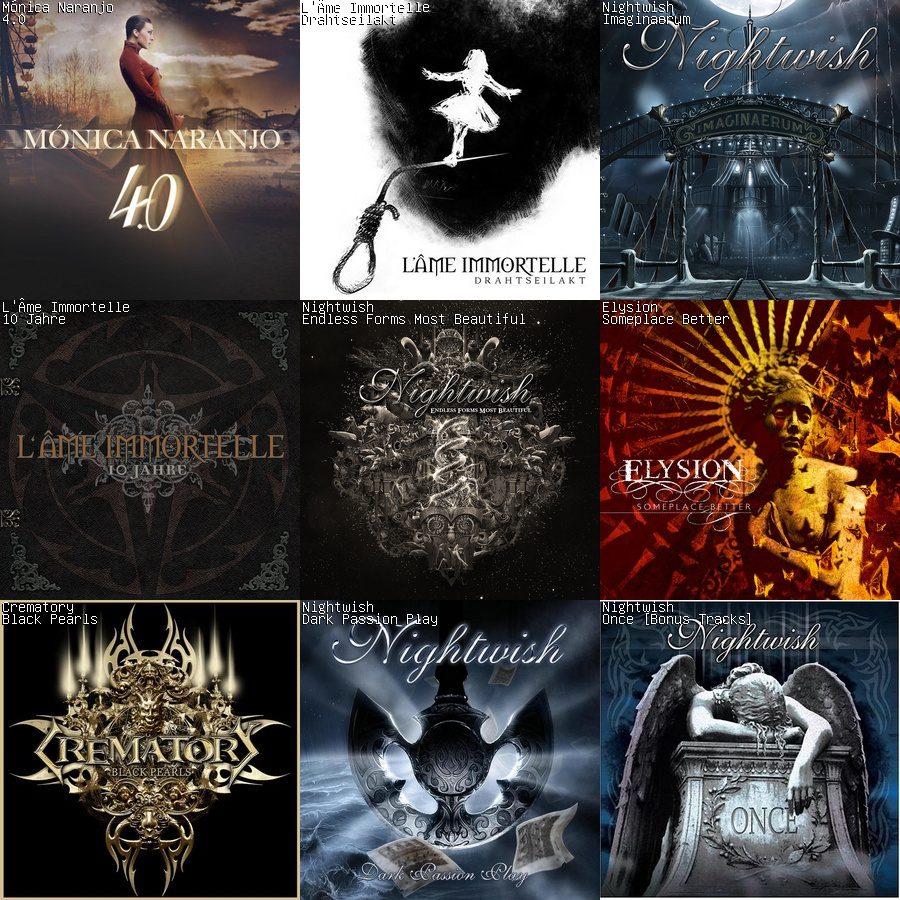 Aquí dejo la lista de conciertos que he vivido:
Nightwish (x2).
Within Temptation.
Tobias Sammet's Avantasia.
The 69 Eyes.
Epica (x3).
Delain.
Tierra Santa (x3).
Jorge Salán (x7).
Fran Soler (x2).
Lacrimas Profundere.
Lacrimosa.
Xandria (x2).
Luca Turilli's Rhapsody.
Rhapsody Of Fire (x3).
Kamelot.
Stream Of Passion.
Tristania.
Kells.
Ghost.
Sarah Jezebel Deva.
Sound Storm.
Leaves' Eyes.
Diabulus In Musica.
Atrocity.
HIM.
Romanthica.
Paradise Lost (x2).
Lacuna Coil.
Livingston.
Kottak.
Edguy.
Megadeth.
Anthrax.
Iron Maiden.
Gamma Ray.
Newsted.
Hammerfall.
Amaranthe (x3).
Seven Kingdoms.
Stratovarius.
Moonspell.
Ava Inferi.
Alcest.
Les Discrets.
Duendelirium.
Trobar de Morte.
Víctor Santal.
Cuélebre.
In Flames.
Amorphis.
Deals Death.
Smash Into Pieces.
Soror Dolorosa.
Blackguard.
Korpiklaani.
Trollfest.
Dünedain.
WarCry.
Pimeä Metsä.
Vicious Rumors.
Death Destruction.
Allegro From My Requiem (x3).
Satyricon.
Amadeüs.
Masterly.
Killus.
Noctem.
Architecs.
We Are The Ocean.
Darkblazers.
The Cannibal Queens.
Pain.
Tarja Turunen.
Saratoga.
In Vain.
Law Maker.
Kings Of Modesty.
Aspera.
Alestorm.
LangeStein.
Ex Deo.
Doctor Muerte (x5).
Arkania.
Hells Bulls (AC/DC tribute band).
Sinkope.
Dark Moor.
Amberian Dawn.
Tears Of Martyr (x2).
From The Depth.
Visions Of Atlantis.
Freedom Call.
Vexillum (x2).
Orden Ogan.
Odd Dimension.
Mojinos Escozios.
El Reno Renardo.
In Extremo (x2).
Eluveitie.
Sabaton.
Wisdom.
69 Chambers.
Sonata Arctica.
Labyrinth.
Triosphere (x2).
Piel de Serpiente.
Under Proud.
Secret Signs.
Tao Te Kin.
Call Me Wolfgun.
Psideralica.
Insane.
Hardreams.
Mägo de Oz (x2).
Nightfear.
La Broma Negra (x4).
Judas Priest.
Motörhead.
Saxon.
Spektra.
Sujeto K.
Señorita Nocte.
Traitors!
Vanagloria.
Backstage Versiones.
Senaste aktiviteter