Every year I hope to get this list up earlier, but a new career change has consumed most of my time lately. I'm not complaining, I love my new job and I still get to listen to whatever I want all day, but I won't have as much time to spend searching for new music or contributing to this site.
I don't care if these lists don't get read all that much anymore- other than by a few of you dedicated last.fm'ers (you know who you are)- I still enjoy putting them together. Enough said, here's my list for 2013.
My 10 Favorite*
*(in alphabetical order)


Arsonists Get All The Girls-Listen To The Color
The return of their former lead vocalist Remi Rodberg allowed Arsonists to return their earlier chaotic form. Not that I didn't enjoy their last two efforts, Portals and Motherland, I really did. Listen To The Color just takes the sometimes predictable technical metalcore sound of the previous two and replaces it with the fast, blast beat grind sound that put this band on the map. This album is killer!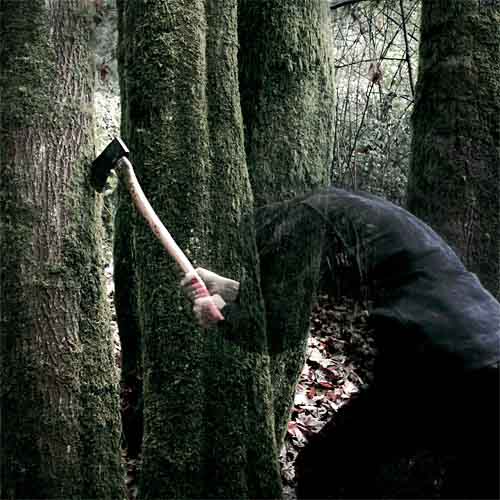 Baptists-Bushcraft
This was probably my favorite album of the year. Baptists chose renowned producer and Converge guitarist Kurt Ballou to record and mix this gem of a heavy album. And it was worth every penny of theirs. Bushcraft is heavy chaotic hardcore with hints of sludge and crust all blended together. Every song is just downright brutal and badass. I'm also super stoked to see former A Textbook Tragedy drummer Nick Yacyshyn find a band worthy of his extraordinary drumming prowess. This one not to be missed for anyone a fan of this genre of music.





East Of The Wall-Redaction Artifacts
There is nothing that this band can't do that I just don't love. Although not as strong as their 2011 release, The Apologist, Redaction Artifacts is nothing short of progressive post-metal brilliance. This album is packed full of songs that vary from well-composed melodic structures to heavy and pounding arrangements. If you haven't given any of their albums a listen yet, you're missing out.




Intronaut-Habitual Levitations
This one actually took a little while to grow on me. I wasn't blown away with it after my first few listens. Come to think of it, I felt the same way about their 2010 release Valley Of Smoke too. I've come to terms with the fact that they've evolved from their earlier aggressive, growling sound found in their first few albums to a more melodic approach. The musicianship is incredible as usual. Joe Lester and Danny Walker are still the best bass and drum combo around, and Sacha and Dave's vocal harmonies get better with every album. Not my favorite of theirs', but an awesome album worthy of my top ten nonetheless.





Kvelertak-Meir
I don't care that these guys sing their songs in Swedish, it doesn't matter, this album is badass. Super catchy, high energy songs with hints of hardcore, punk, metal and thrash. I enjoyed this one so much that I completely forget that I can't understand a word they're saying. By the way, this is another Kurt Ballou project.





Nice Hooves-Nice Hooves
Here's my surprise discovery of the year. Featuring members of another one of my favorite hardcore bands The Armed, Nice Hooves is incredibly loud and noisy with elements of hardcore, punk and metal. The best part about this awesome hard-hitting debut is that they're giving it away for FREE!!! You be missing out if you didn't grab it and find out for yourself. Check it out here http://nicehooves.bandcamp.com/album/nice-hooves. And what do you know, another Kurt Ballou undertaking.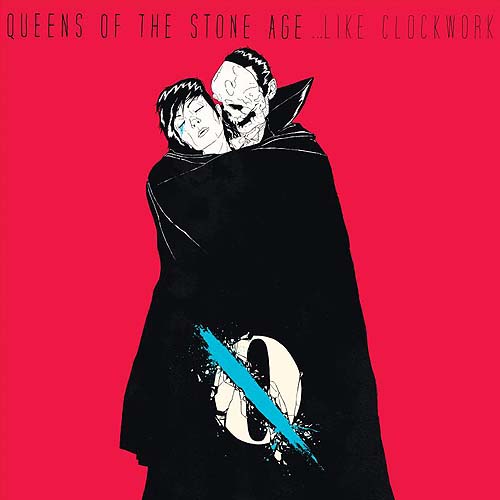 Queens of the Stone Age-...Like Clockwork
After a long wait, Josh Homme is back again with his knack for cleaver and catchy song-writing. Although I enjoy all of their work, their previous two were probably my least favorites. Like Clockwork, on the other hand, reminds me more of their earlier work, and Songs For The Deaf in particular, my personal favorite. This album did however see the exit of drummer Joey Castillo. Good news is that he was replaced with one of my favorite drummers ever, Jon Theodore.





Red Fang-Whales And Leaches
These guys have quickly become one of my favorite bands in the last year or so. Whales And Leaches is a heavy blend of hooky, but sludgy stoner rock and metal. It's a little more mainstream sounding than their previous two albums, but a great album worthy of my top ten nonetheless.





Russian Circles-Memorial
Russian Circles continue to establish themselves as a giant in the now somewhat stale post-metal genre. It amazes me the intricate and complex sound this band can create as a 3-piece with no vocals. Memorial is a great mix of melodic landscapes mixed with heavy, dynamic and layered riffs. This is my favorite album of theirs since Station.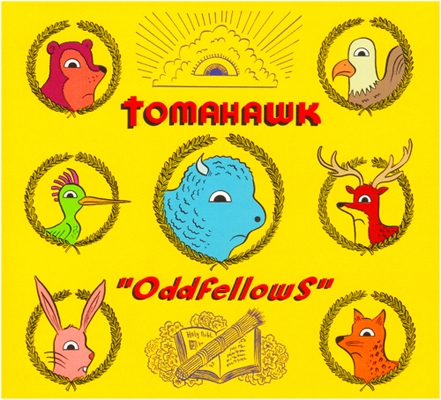 Tomahawk-Oddfellows
Tomahawk is back. After embracing the weird and experimental sound of their 2001 self-titled and 2003 Mit Gas, they underwhelmed me with 2007's Anonymous. I know it was critically acclaimed, but I think it was too far of a departure from the first two albums. I just couldn't wrap my head around it, and I still can't to this day. Oddfellows, on the other hand, is a return to that weird and experimental sound that they captured in their early years. This is my favorite of all of Mike Patton's many projects.




Other Greats*


*(Not quite top ten)




All Pigs Must Die-Nothing Violates This Nature
Not as strong as 2011's God Is War, but an awesome album. Ben Koller continues to amaze me with his drumming chops. Another Kurt Ballou recorded and produced project.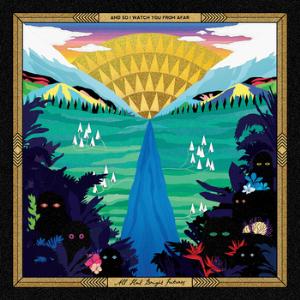 And So I Watch You From Afar-All Hail Bright Futures
Awesome progressive instrumental rock from northern Ireland. If you're not familiar with this band, all of their releases are stellar. This album is no exception.




The Dillinger Escape Plan-One Of Us Is The Killer
After all these years, DEP continues to kick our asses with energetic and chaotic madness. I had this in my top ten early in the year, but it got bumped out as the year progressed. Nevertheless, this is a badass album.




Humanfly-Awesome Science
It seems like every year someone recommends me an album from a band I don't care for. Awesome Science is that album this year. I haven't liked anything this band has put out, until Awesome Science. It's too bad that the band spilt up shortly after its release, this was by far their best work to date.




Light Bearer-Silver Tongue
This is a band to watch out for. Beautiful atmospheric sprawling landscapes that build into chugging heavy sludgy rhythms. Very well composed.




Mutoid Man-Helium Head
This band consists of Stephen Brodsky of Cave In and the aforementioned Ben Koller of Converge, United Nations and All Pigs Must Die just to name a few. The fact that Helium Head is more of an EP than a full length and that it came out real late in the year (I didn't get as much time to spin it) are the reasons it wasn't top ten. It was close though.




Old Gods-Stylized Violence
Here's another real close to my top ten. Stylized Violence is awesome chaotic hardcore featuring former Dillinger Escape Plan guitarist Jeff Tuttle.




Palms-Palms
When I heard Chino from Deftones was teaming up with a member of Isis, I almost shit my pants. I was expecting it to be a lot heavier than it turned out. But given time to grow on me, this was a great debut. I just hope they stick around and follow it up with a couple more albums.




Pelican-Forever Becoming
Another solid effort from this post-metal staple. Not a far departure from anything they've done before, but solid.




Portugal. The Man-Evil Friends
This band is an album making machine. However, this leads to albums that are hit and miss. This one is definitely a hit though.




Rosetta-The Anaesthete
I've read so many negative reviews about this one. Most said the same thing, that it was monotonous and lacked passion. I don't know what album they were listening to. First of all, most Rosetta songs are built on a monotonous riff/rhythm that eventually builds and develops into explosions of melody and emotion. This album is no different. I hear passion all over the place. I loved this album.




Sleeping in Gethsemane-When The Landscape Is Quiet Again
One more Kurt Ballou project to add to this list. This 3-piece from Fargo, North Dakota play a great blend of heavy technical instrumental, post-rock that I just dig. I really enjoy their debut from a few years back, but there's something about this album that keeps me coming back... Ballou? It seems like everything he touches turns out just awesome.




Good, not great*


*worth mentioning

Anorak-Go Up In Smoke (Hardcore)

The Barber- Circus Tricks (Chaotic Hardcore)

BIIPIIGWAN-Something For Everyone; Nothing For Anyone (Sludge, Crust, Hardcore)

Black Rebel Motorcycle Club-Specter At The Feast (Indie Rock)

blame it on the ocean-From The Depths (Hardcore)

Blizzard at Sea-Certain Structures (Post-Metal, Sludge)

Boatrocker-Antagonize (Post-Hardcore, Hardcore)

Castles-Fiction Or Truth (Math Rock) (Kurt Ballou produced/recorded)

Children Of God-We Set The Sky On Fire (Hardcore)



cleenteeth

-Pushing Rope (Sludge)

Cortez-Phœbus (Hardcore)

Cult of Luna-Vertikal (Post-Metal)

Deafheaven-Sunbather (Post-Metal, Black Metal)

The Dismemberment Plan-Uncanney Valley (Indie Rock)

Dogs for Breakfast-The Sun Left These Places (Hardcore)

Doomriders-Grand Blood (Hardcore)

Dorena-Nuet (Instrumental Rock, Post-Rock)

Echoes Of Eon-Immensity (Instrumental Rock, Post-Rock)

Enemies-Embark, Embrace (Instrumental Rock, Math Rock)

Erosion-Kill Us All (Hardcore, Crust)



Facing The Swarm Throught

-Bridges (Chaotic Hardcore)

Forge of Clouds-Ordinary Death (Post-Metal, Sludge)

Fura-Fura (Instrumental Rock)

Globe and Beast-Grandfather (Hardcore)

Great Falls-Accidents Grotesque (Hardcore)

Grenades-Heaven Is Empty (Hardcore)

grey season-Septem (Progressive, Post-Metal, Hardcore)

Hedvika-The Evidence Of Absence (Post-Metal)

KEN mode-Entrench (Metal, Hardcore, Sludge)

KeralaThrough The Desert (Progressive, Post-Metal)

Kings of Leon-Mechanical Bull (Rock)

Kultika-The Strange Innerdweller (Post-Metal)

Lite-Installation (Instrumental Rock, Math Rock)

Maidens-Eve Of Absolution (Post-Metal, Sludge)

Mandroid Echostar-Citadels (Post-Hardcore)

The Night Marchers-Allez Allez (Alternative, Punk)

Norma Jean-Wrongdoers (Hardcore)

Pariso-Consanguinity (Chaotic Hardcore)

Phantom Glue-A War Of Light Comes (Stoner Metal, Sludge)

Pyres-Year Of Sleep (Progressive, Hardcore, Sludge)

Redwood Hill-Decender (Sludge)

Reproacher-Nothing To Save (Chaotic Hardcore)

Rise After Defeat-Adrift (Hardcore)

Rising-Abominor (Hardcore, Sludge)

The Rodeo Idiot Engine-Consequences (Chaotic Hardcore)

Rogue Wave-Nightingale Floors (Indie Rock)

Romero-Take The Pain (Stoner Metal, Sludge)

Sabertooth-Sheol (Hardcore)

Sceintist-Sceintist (Progressive, Hardcore)

Seizures-The Sanity Universal (Hardcore)

Septa-The Lover (Post-Metal)

Sepultura-The Mediator Between Head And Hands Must Be The Heart (Metal)

Seven Sisters of Sleep-Opium Morals (Chaotic Hardcore, Crust)

Slugdge-Born Of Slime (Progressive, Hardcore, Sludge)

Sofy Major-Idolize (Post-Metal, Sludge)

A Storm of Light-Nations To Flames (Post-Metal)




Disappointments*


*total letdowns (turds)

Alice in Chains-The Devil Put Dinosaurs Here
This one I don't quite consider a turd. It actually has a couple pretty good songs. It just seemed rushed like there was no passion in the song-writing. Especially after loving Black Gives Way To Blue

Atoms for Peace-Amok
I expected more from an album featuring Thom York and Flea on bass. Just nothing interesting to me in this album. What a waste of talent.

EF-Ceremonies
Really good post-rock band that unfortunately made a really boring album. Their older stuff is really good, just not this one.

Kylesa-Ultraviolet
Nothing special here, sounds like I heard it all before. I hope they can pull it together and release another gem like Static Tensions. I haven't liked their last two releases.

Long Distance Calling-The Flood Inside
Another example of a band straying from what they're really good at and trying something that just doesn't work, for me at least. This is a great progressive heavy instrumental that tried adding vocals that don't fit. They should go back to instrumental music.

Pearl Jam-Lightning Bolt
Not a total turd here either, but very un-inventive and boring. Feels like surrounding one or two good songs around a bunch of lazy song-writing fillers.

Rival Schools-Found
I've liked Walter Schreifels from his days with Quicksand in the 90's. I even liked the first Rival Schools album. This one doesn't even sound like the same stuff. I can't get into it, or maybe I'm outgrowing it.


Well there it is folks. As always, feel free to leave comments suggestions, insults, hate mail, letter bombs, or whatever. Also PLEASE, let me know if you come across anything you think I might dig from this upcoming year. As I mentioned earlier, I'm not gonna have the time to sit around and search for new music like I did with my new job. Much appreciated!