The other night, quietly and with very little fanfare I passed 150,000 plays on Last.fm. Pretty much one year from the day that I passed my 100,000 milestone. It's amazing to me to think that I listened to 50,000 tracks in a year, but that's only half the story. That's not including stuff I heard on the radio, live performances, friends playing music when visiting their houses, watching something on youtube which I didn't scrobble, things I heard then deleted from my scrobble history because I hated them so much.... It's amazing how much music fills your life without really trying, much less when you're like me and have music going almost around the clock.
I love Last.fm and as I've said in the past, it's sort of like "my facebook". Other people let facebook occupy much of their time and it becomes a big part of their lives. Last.fm is like that for me and the very ephemeral nature of the internet makes me worry about what I'll do if it ever disappears. I'll live, certainly and there are far worse things which can go wrong in life, but I suppose it is a dear hobby of mine and a great resource for discovering new music and connecting with other music fans. It also satisfies my oddly exhibitionist nature when it comes to my music collection and listening habits. I can't really explain it, much less understand it but I've always been this way. Music has been a big part of my life since I was very young and I suppose that, combined with whatever twisted miasma lies deep in my psyche causes it to manifest that way.
I also mull over the fate of Last.fm since it seems like so many longstanding third party developers and website are disappearing. Tools I used to enjoy and often employee in these journal entries such as McKillaboy's badges and lastlabs. These are additonal tools which utilize Last.fm's API and it seems like they just aren't interested or are jumping ship for other reasons. Sure, it costs money to re-register a domain every year, maintain a server, etc, but the fact that they aren't even trying anymore leads me to believe that they may have succumbed to their consensus that Last.fm is dying. There still are a lot of people using this site and a lot of people supporting it (despite all the other users who do nothing but complain).
This post in particular
hints that Last.fm's developers have "big things" in store on the horizon. Fingers crossed, ever hopeful. I am grateful for the few third party developers who have stuck around, like Last.fm Tools (see below).
Thank you for reading all of that (if you actually did) and now that I got that off my chest, it's time for some stats! You love stats as much as I do right?
What I've (mostly) been listening to for the past 12 months: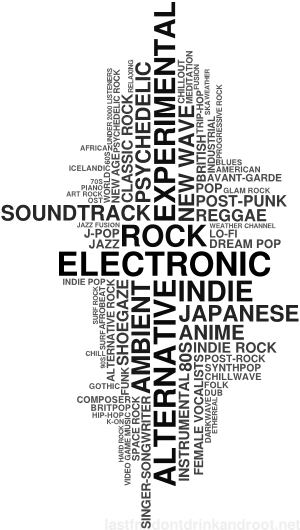 Top artists for the past 12 months:
1.
The Legendary Pink Dots
2.
Ween
3.
Beck
4.
David Byrne
5.
UB40
6.
Talking Heads
7.
Spiritualized
8.
新居昭乃
(Akino Arai)
9.
大谷幸
(Kow Otani)
10.
Herbie Hancock
Top tracks for the past 12 months:
1.
The Byrds
–
You Ain't Going Nowhere
2.
Bob Dylan
–
Knockin' on Heaven's Door
3.
Brian Eno & David Byrne
–
Everything That Happens
4.
Chelsea Wolfe
–
We Hit a Wall
5.
Ride
–
Dreams Burn Down
6.
Ride
–
Decay
7.
The Stone Roses
–
Made of Stone
8.
I Break Horses
–
Denial
9.
The Stone Roses
–
I Wanna Be Adored
10.
Talking Heads
–
Warning Sign
garynotrashcoug's top albums (year)
1. Joy Division - Heart and Soul (235)
2. Killing Joke - Singles Collection 1979 - 2012 (132)
3. Ride - Waves (102)
4. Oingo Boingo - Best O' Boingo (94)
5. Spacemen 3 - Recurring (90)
6. Doves - Lost Souls (90)
7. The Raveonettes - Pretty in Black (90)
8. Cymande - Cymande (85)
9. Spiritualized - Pure Phase (84)
10. Blue Man Group - Audio (84)
I suppose this type of journal entry is more for my own records, to go back and look at a snapshot from a previous year and see what my listening tastes were like at the time, more than anything else. Thanks for reading and to group leaders still present for letting me spam your journal feed and hey.....at least there's one McKillaboy badge which still works....