Ledare:
rallymatch
Policy för att gå med:
Ägarens godkännande
Skapad den:
15 jan 2005
Beskrivning:
We gather here out of respect for, or to deepen our understanding of or satisfy our curiosity about, Jim Morrison, poet and composer and lead singer for The Doors....
For seven years I dwelt in the loose palace of exile
playing strange games with the girls of the island.

Now I have come again
to the land of the fair and the strong and the wise.

Brothers and sisters of the pale forest,
children of night,
who among you will run with the hunt?
* * * * * *
At first flash of Eden
We race down to the sea.
Standing there on freedom's shore.

Waiting for the sun
Waiting for the sun
Waiting for the sun.

Can you feel it, now that spring has come?
That it's time to live In the scattered sun.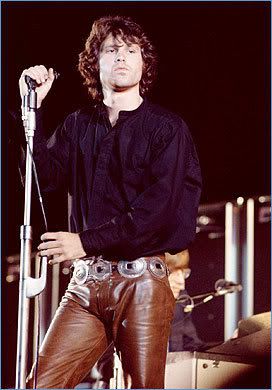 There are many resources on the internet for lyrics and poetry written by Jim Morrison. Among the best places for this are
Always On The Run
and
"Jim Morrison."
Take some time to read his work. You will enjoy the music more, and he will be grateful. Also, there are a few related groups,
The Doors
, and then two groups honoring band members
Ray Manzarek
and
Robby Krieger
.
Bands I've Seen Live [Part 3, 2nd ed.]: Blue Cheer at The 1968 Pop Festival av emergingsynergy | 28 aug 2006 |

12 kommentarer

R.I.P Jim Morrison av marsaday | 20 mar 2008
Se alla