Ledare:
doneves
och
mariatoledano
Policy för att gå med:
Ägarens godkännande
Skapad den:
10 dec 2011
Beskrivning:
AUSSIE GROUP was created to offer its MEMBERS lots of Flags, including RARE ones. We are a United Friendly Family of MEMBERS. IF YOU DON'T LIKE receiving lots of Flags, PLEASE DO NOT JOIN IN.
AUSSIE GROUP MAIN COUNTERS



















CLUB #250 MEMBERS' COUNTERS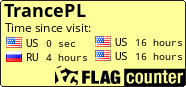 [



















































CLUB #249 MEMBERS' COUNTERS
.

CLUB #248 MEMBERS' COUNTERS



CLUB #247 MEMBERS' COUNTERS










NEWCOMERS MEMBERS' COUNTERS













RULE #1: Behave in the Group and you will remain in the Group;
RULE #2: Misbehave in the Group and you will be Banned for ever with no explanations given.
RULE #3: You must display an unrestricted flagcounter in your Last.fm Profile, before i display your counter in the Group´s Page;
Australia, Sydney, the 19th of May 2012 –
PLEASE VISIT AND JOIN OUR NEW GROUP, MANAGED BY MY BELOVED "Mariatoledano"
LIST OF COUNTRIES FROM WHICH NO ONE WILL BE ABLE TO GET ANY MORE FLAGS:
1.- AN - NETHERLANDS ANTILLES; Phased out;
2.- HM - HERALD & MACDONALDS ISLANDS; Registers now as VA - VATICAN;
3.- BV - BOUVET ISLANDS; Registers now as VA - VATICAN;
FOR THOSE WHO DO NOT HAVE THESE FLAGS IN THEIR COUNTERS, BY NOW, THE TOTAL FLAGS POSSIBLE NOW IS:
#247
Spela gruppens lista
Se alla medlemmar
Senaste aktiviteter
Beefi-XXX lämnade denna grupp.

18 dagar sedan

wOoDy__ lämnade denna grupp.

senaste månaden

Turkishunicorn2 lämnade denna grupp.

senaste månaden

B3cks_ gick med i denna grupp.

maj 2014

juanjonop lämnade denna grupp.

april 2014

Antiquesphere lämnade denna grupp.

januari 2014

burno12345 gick med i denna grupp.

januari 2014

inked4ever gick med i denna grupp.

januari 2014

Kassou lämnade denna grupp.

januari 2014

En raderad användare lämnade denna grupp.

november 2013